Christmas Outreach Events
Every other year, Divine Redeemer rotates our Christmas Outreach event between Breakfast with the King and the Outdoor Live Nativity Walkthrough. See information about both of these amazing outreach events below.
2022 - Outdoor Live Nativity
2023 - Breakfast with the King
2024 - Outdoor Live Nativity
2025 - Breakfast with the King
You can view the Outdoor Live Nativity at Shepherd of the Hills in Pewaukee in 2023 and 2025.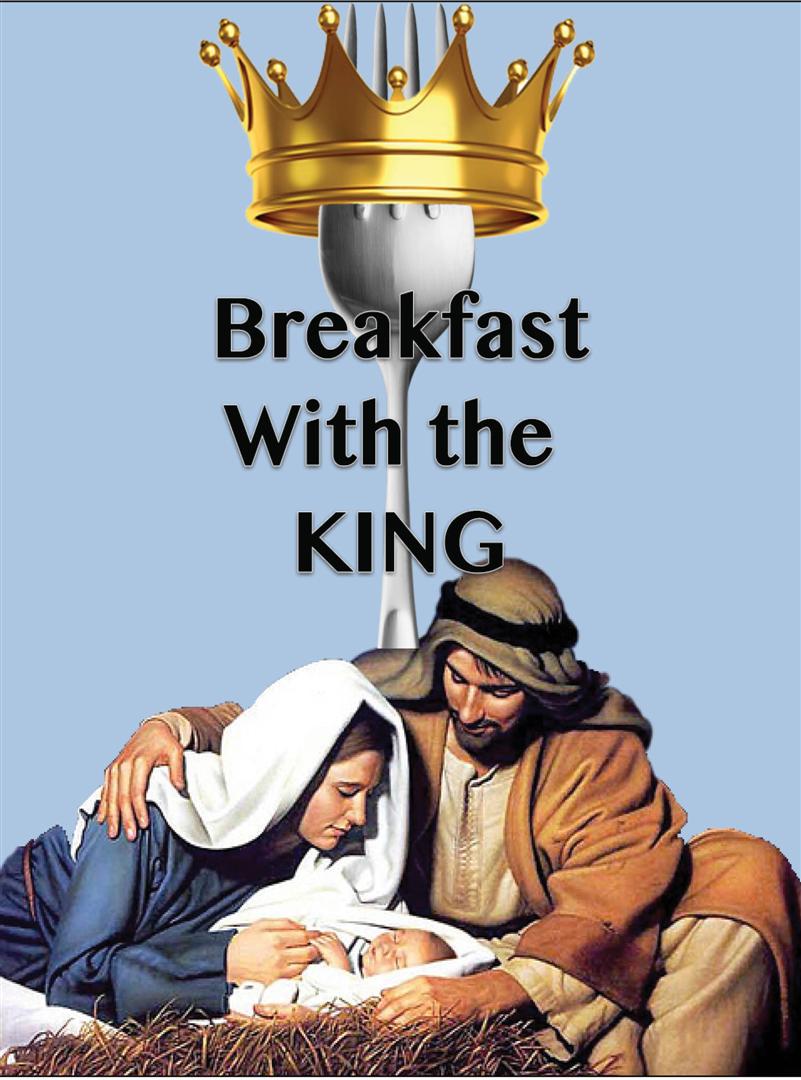 SAVE THE DATE - DECEMBER 2, 2023
BREAKFAST WITH THE KING is an interactive experience with the market of Bethlehem, Mary & Joseph, shepherds, wise men, baby Jesus and more.
You won't want to miss it! Here's your chance to bring your friend or neighbor!
Breakfast begins promptly at 9 AM with a short program immediately following breakfast.
Doors open at 8:30 AM
Divine Redeemer Lutheran Church — gym
(31385 W. Hill Rd (HWY 83) Hartland)
Date: Saturday, December 2, 2023
Breakfast with the King will be back in December of 2023.
Coming back December 2024 (Bi-annual event)
We will host the Outdoor Live Nativity Walkthrough on December 10th from 5:00 - 6:30pm. Head to the gym for cocoa, music, cookies & craft after the walk and up until 7:00pm.
This event will have elements that were loved in 2020 like the luminary walk, live actors and animals, and Luke 2 storyboards. We are also excited for a few new additions:
Longer Nativity Walk with new stations
No tickets required to attend
Fellowship time with Cocoa, Cookies & Christmas music in the gymnasium following the walk
If you want to be a part of this amazing event that brings joy and JESUS to our community, you can read the signup genius for donations needed and volunteer/actor roles. This event takes a LOT to put on and we are excited to do it again in 2022. Note: Shepherd of the Hills in Pewaukee will be doing the same Live Nativity at their location in 2023 so if you volunteer this year, you can walk through next year at their location.
SIGN UP GENIUS LINK: https://www.signupgenius.com/go/20f0e4faba722a5fa7-live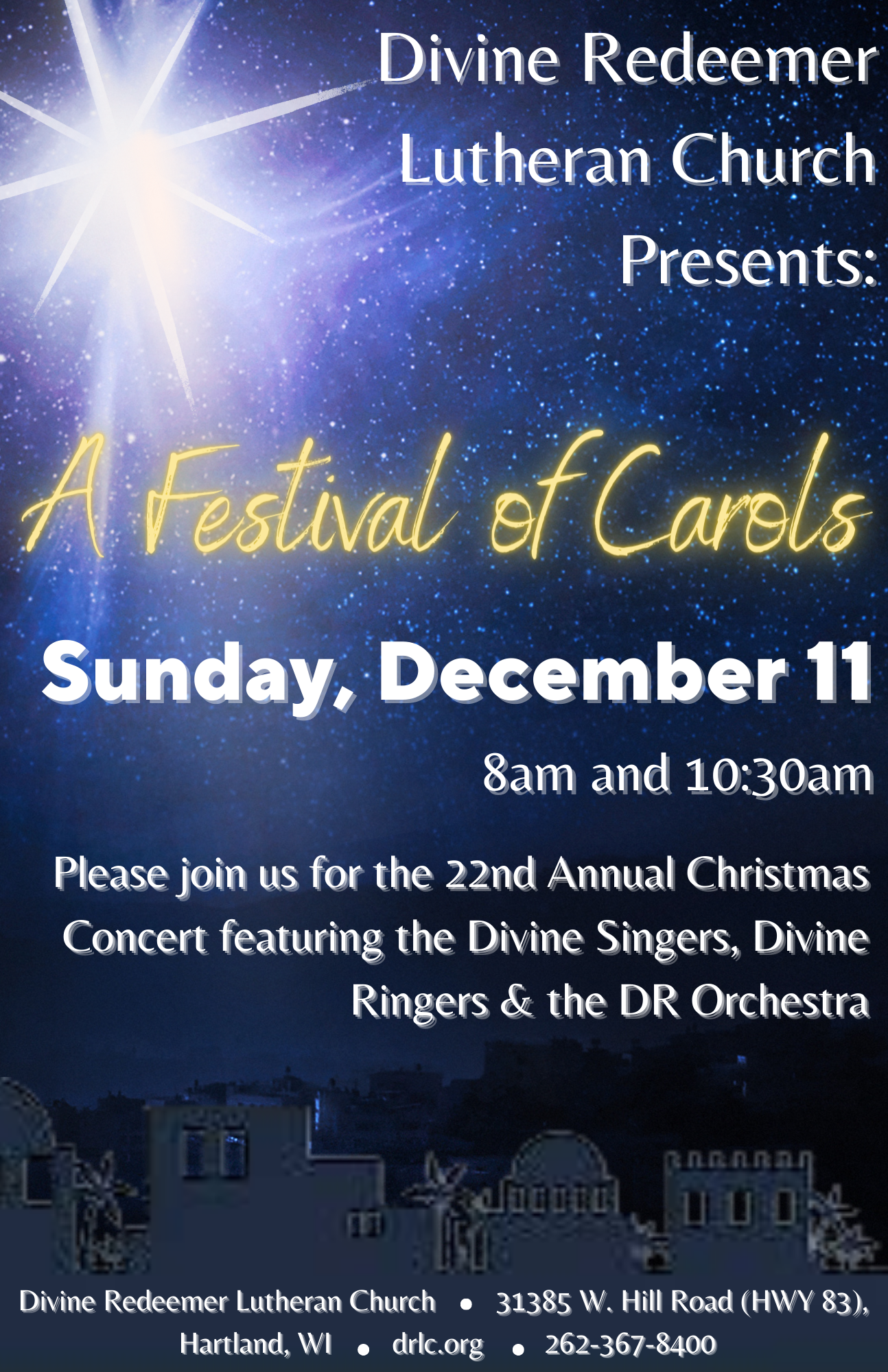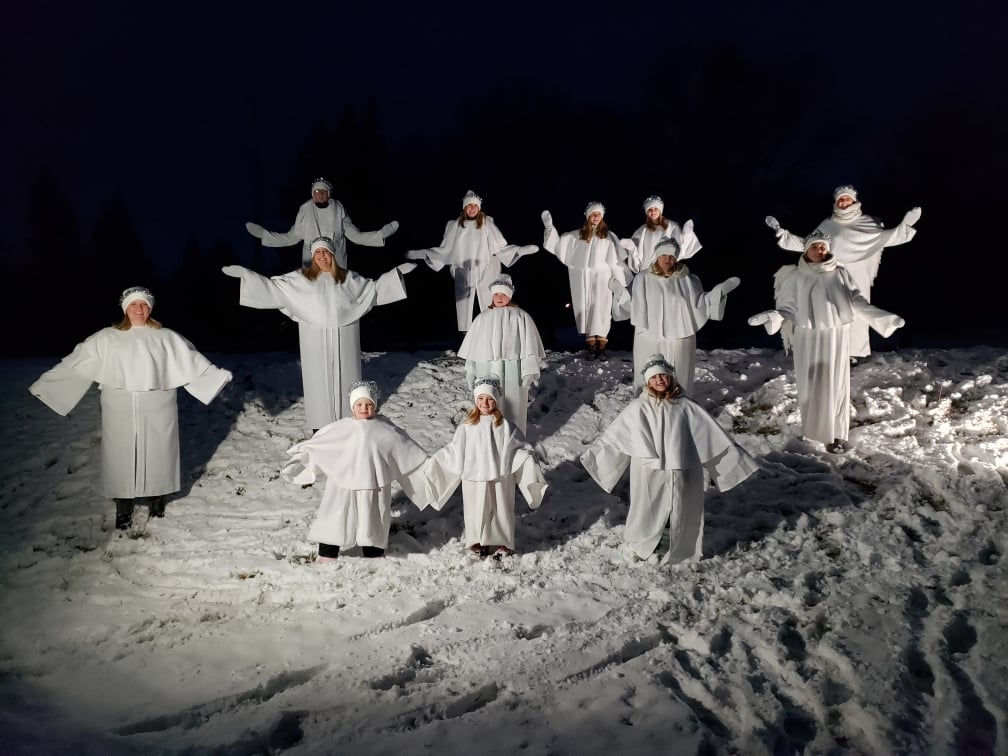 Outdoor Live Nativity Walkthrough is a lighted luminary walk-through event that highlights the gospel message in Luke chapter 2 with actors and signboards. From singing angels to angry Roman guards to real sheep and a petting station to the holy scene at the manager, and more - participants will get the real story and meaning of Christmas through this family-friendly event.
Arrive anytime between 5:00 - 6:15 to walk through the outdoor portion. Head inside after your walk to our gymnasium for Christmas music, Cocoa & Cookies. This event is FREE to attend. We are accepting food pantry items and monetary donations to benefit the Hartland Food Pantry directly.
Dress warmly for any weather! This is the perfect event to bring a friend - all are welcome!
Divine Redeemer Lutheran Church
(31385 W. Hill Rd (HWY 83) Hartland)
Please follow the parking lot attendants directly to park safely.
Saturday, December 10th, 2022 5-6:30 PM