Summer at Divine Redeemer
There are so many ways to stay connected to JESUS and others this summer at Divine Redeemer!
Vacation Bible School
Student Serve Day
Summer Outdoor Worship Series
Summer Outdoor Movie Night
Summer Camps
Summer Bible Studies
Summer Board Game Nights
Two Great Summer Worship Themes
More!
Find details about all of these summer events below: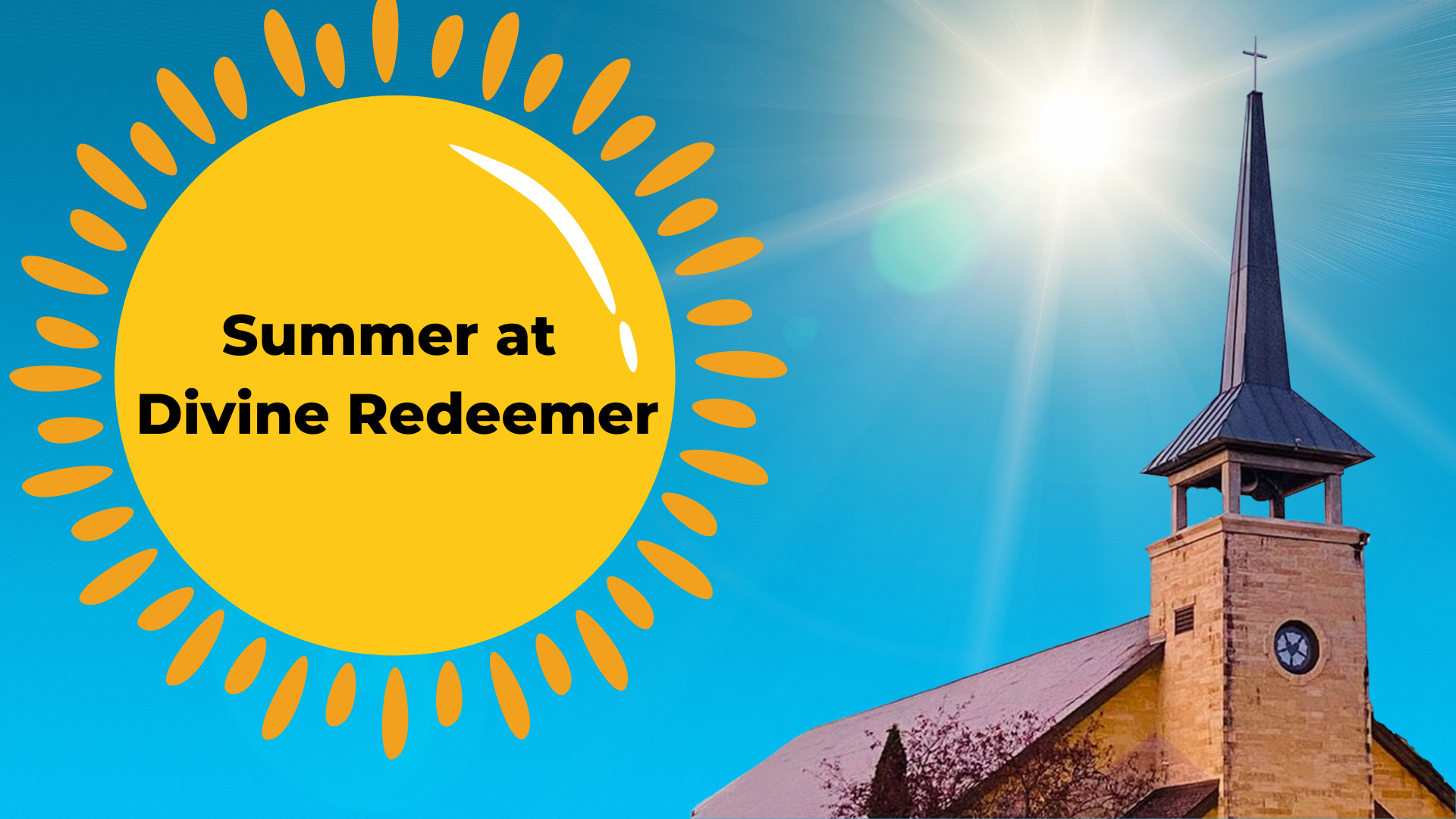 Summer Outdoor Worship Series

Our Outdoor Summer series is back for another year! Join us the 2nd Saturdays of June, July and August for Worship, Food and Fellowship. There are different worship styles, food options and fellowship activities each month! Bring your own chairs/blankets.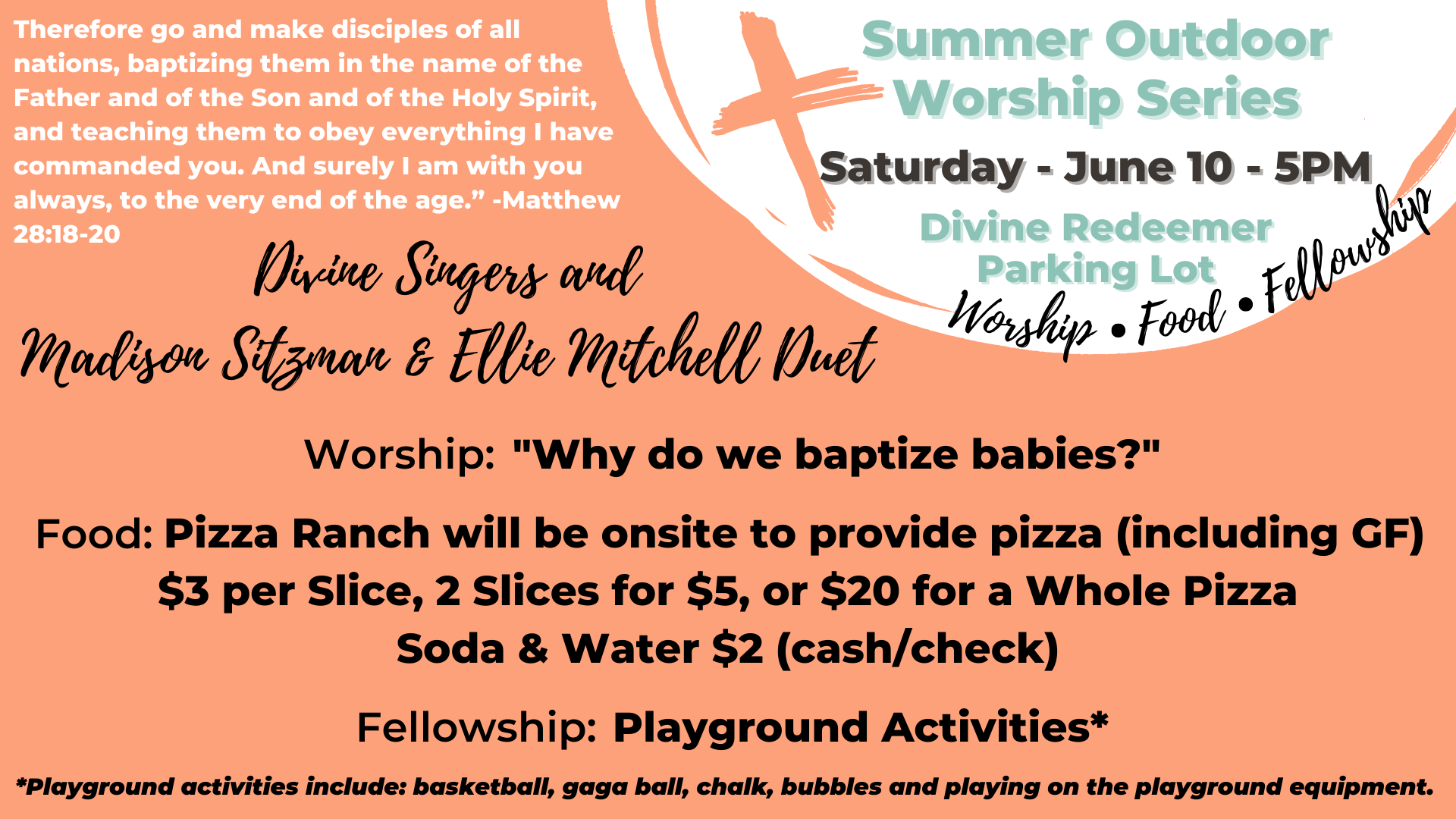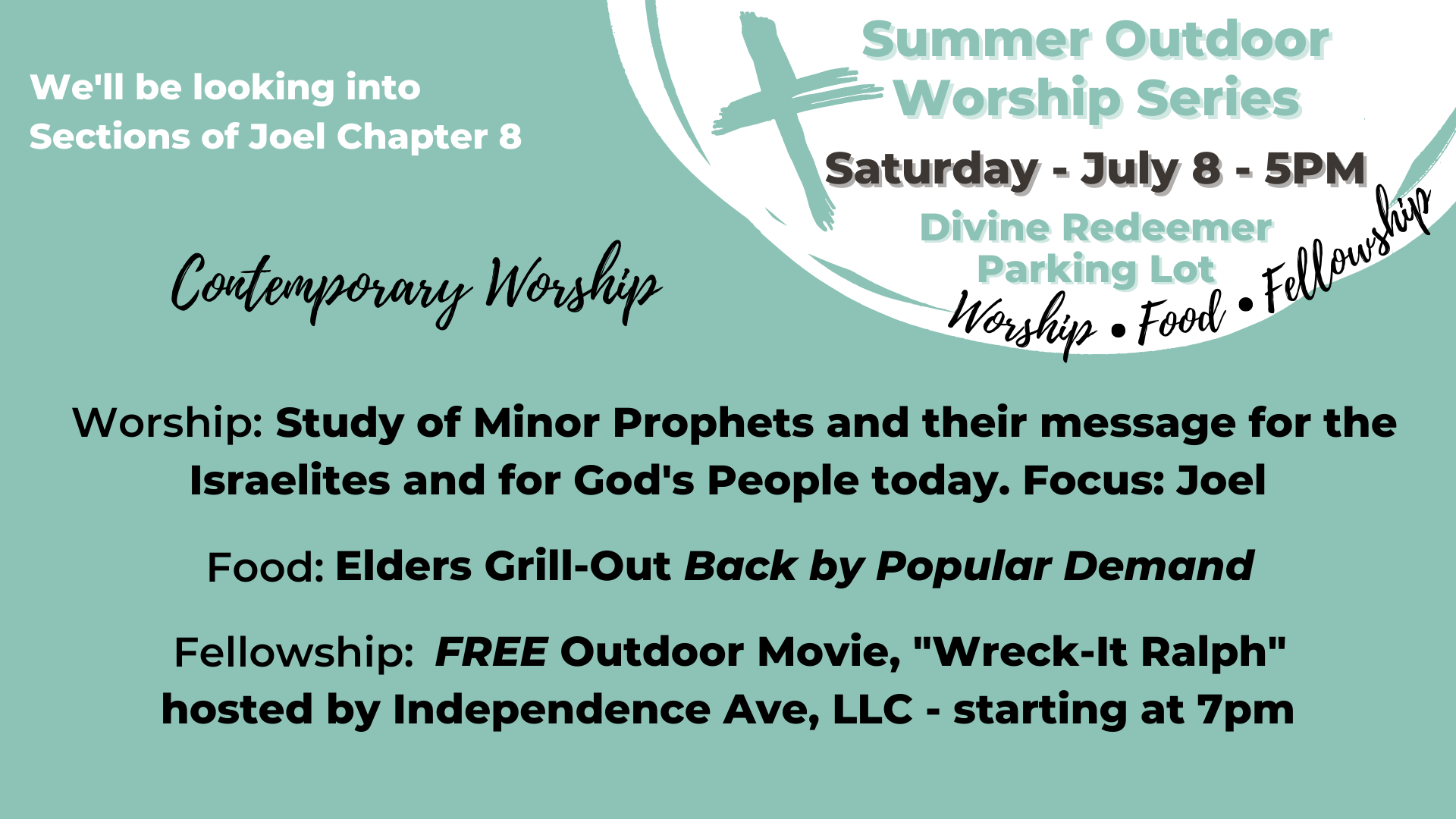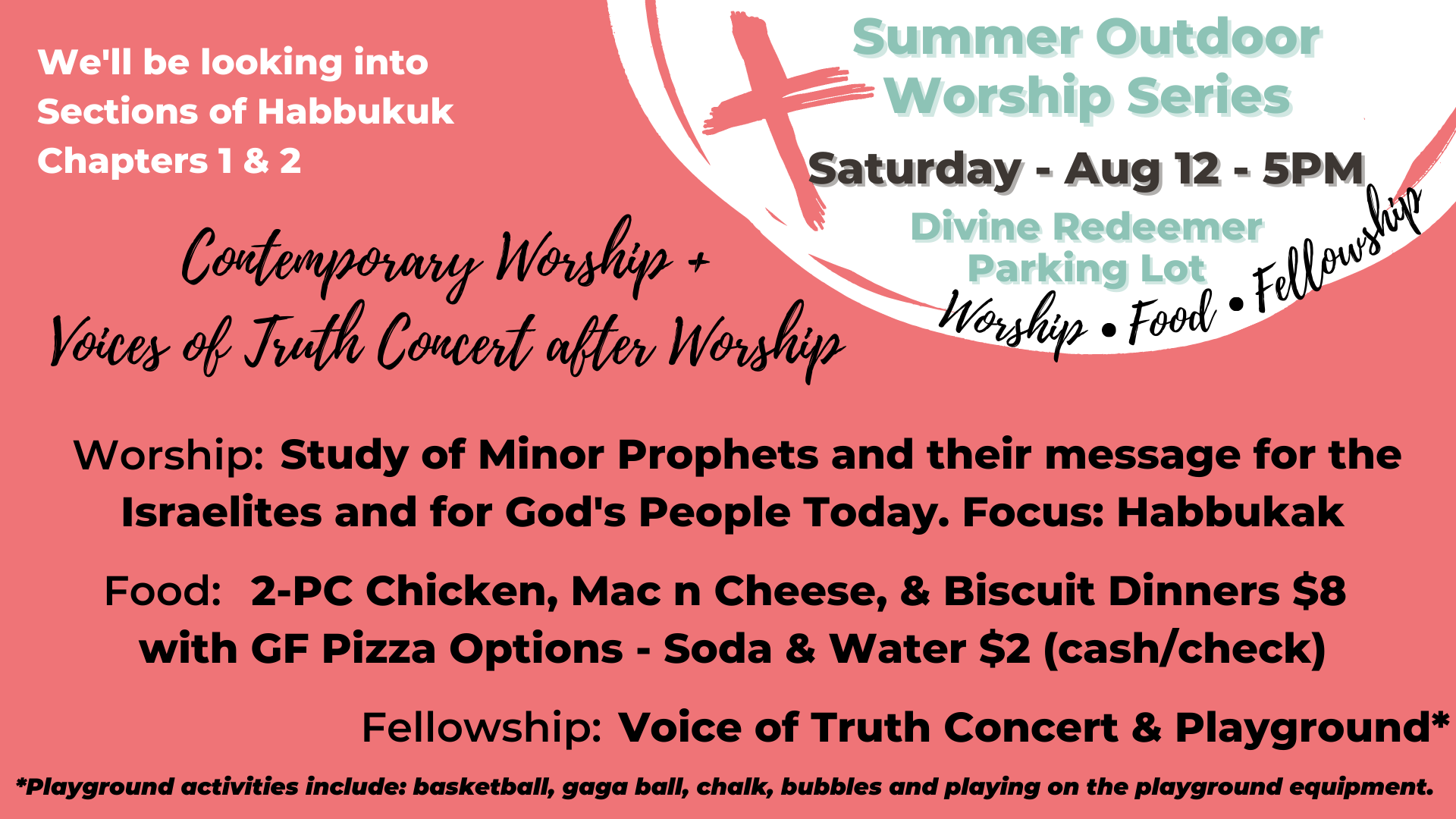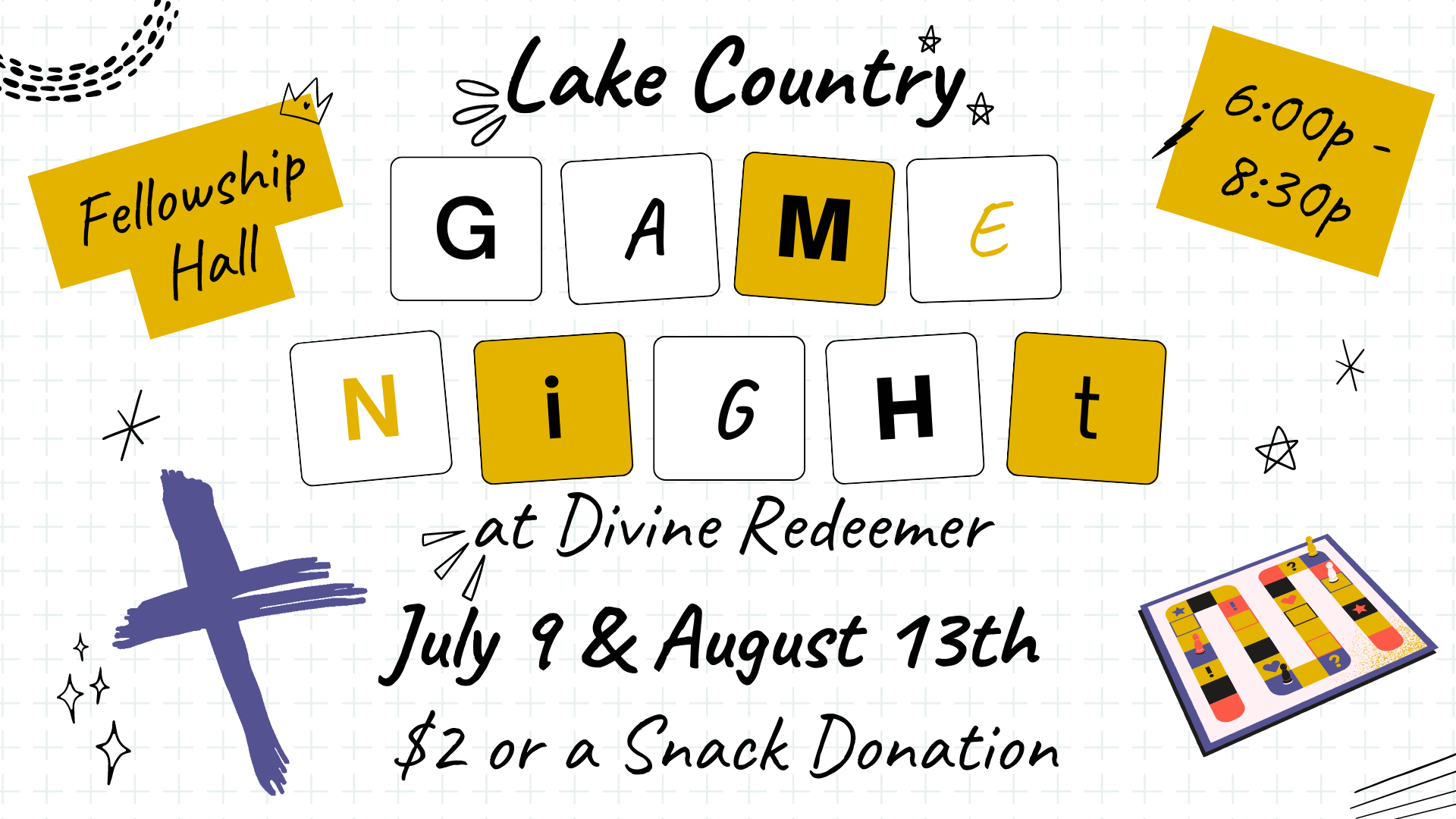 Vacation Bible School 2023
Vacation Bible School will take place the week of June 12th. It runs Monday - Thursday from 9am to Noon. We are still looking for volunteers for this event, please sign up here. VBS Registration is closed and there will be no walk-in availability this year.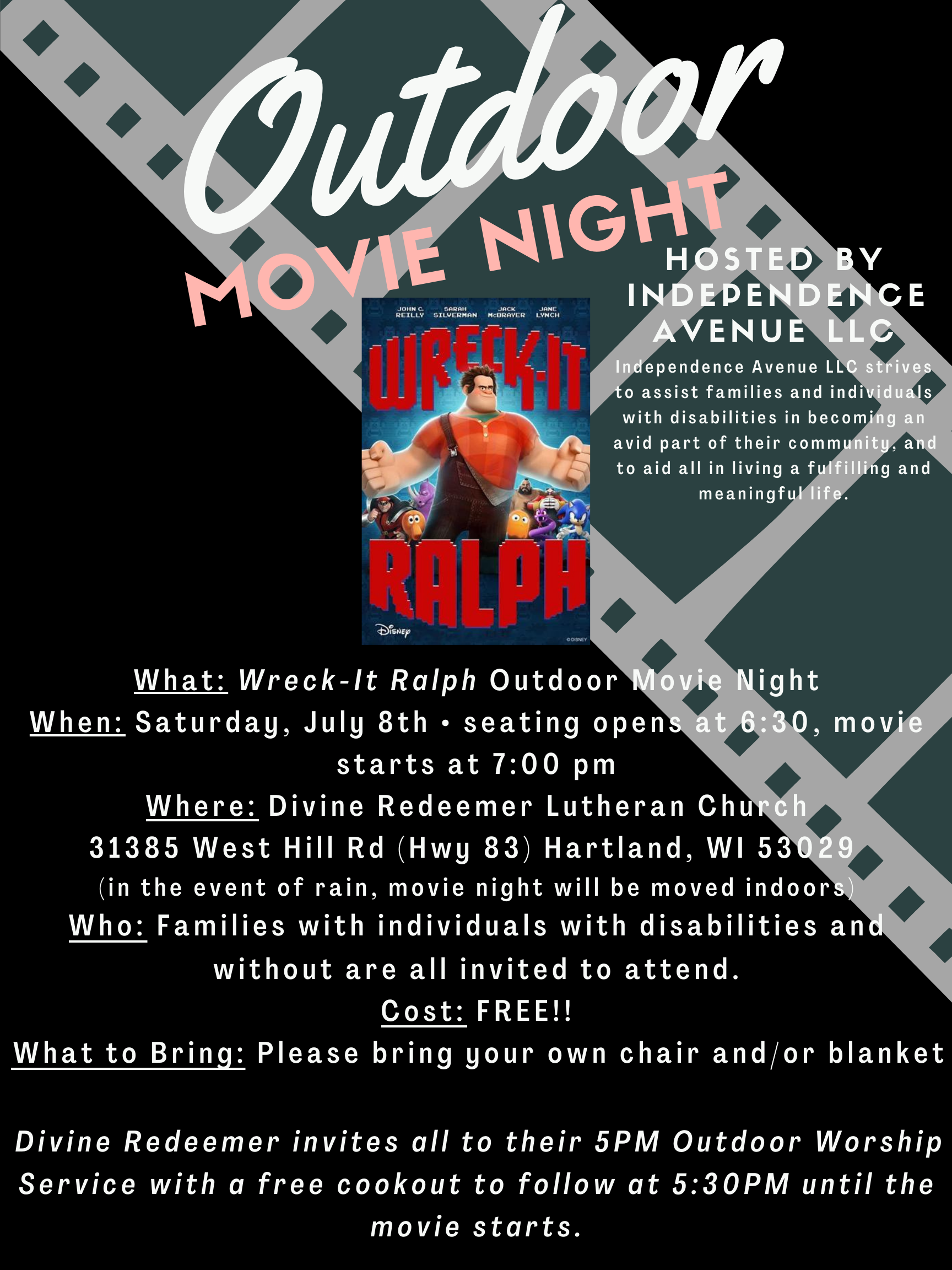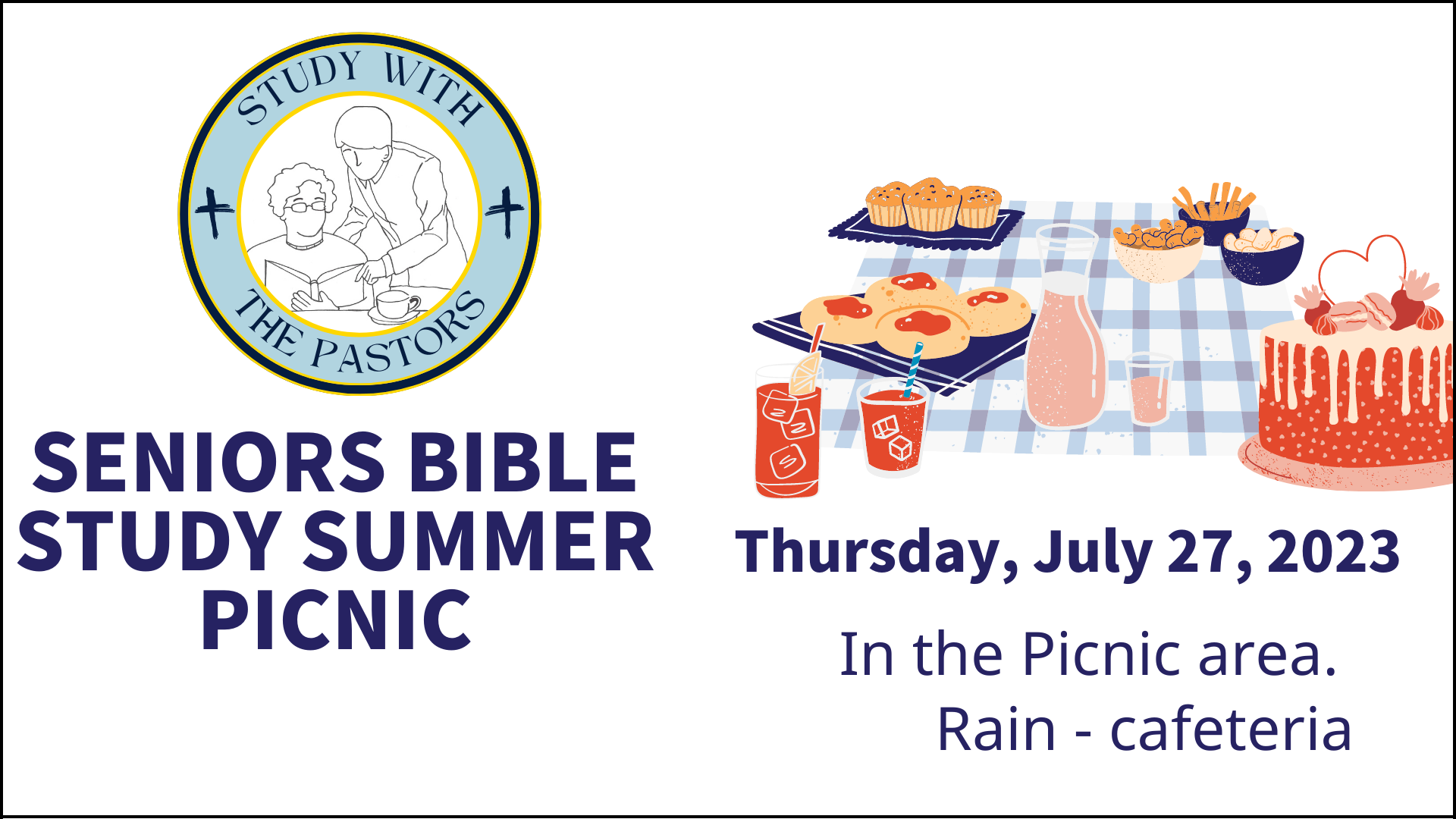 Each summer, the youth rotate their summer activity. Every three years, we attend the National Youth Gathering. The next one will be in 2025. This summer is a Student Serve Day.
The Summer Serve Day will be a great morning! The Men's Ministry will be helping with the woodchips project on the playground. Feel free to drop in anytime from 8:30 - 11:30 to help - there will be indoor and outdoor options.
June - "Biblically Rooted"
A 4-part sermon series on the two sacraments of the Lutheran Church Missouri Synod - Baptism and the Lord's Supper:
Why do we baptize?
Why do we baptize babies?
What is the Lord's Supper?
What is the Real Presence?
July & August - "Messengers"

A study of Minor Prophets and their message for the Israelites and for God's People Today:
Hosea

Joel

Amos

Obadiah

Micah

Nahum

Habakkuk

Zephaniah
Zachariah
Malachi
Staying Connected this Summer
If summer has you traveling, you can check out our livestream services offered at 8am (Traditional) and 9:15am (Contemporary). View these later in our worship archive.
Giving doesn't have to take a summer break, you can set up online giving anytime at drlc.org/giving.
If you are checking your emails less this summer, be sure to catch a copy of our weekly church newsletter (sent every Thursday) on our communications hub here.
Last Day of School is Friday, June 2nd.
State of the School presented by Janet Bahr - DR GYM on June 2nd
Farewell Teacher Reception for Lynn Cox & Kathy Oldenburg is June 4th
June Outdoor Worship is June 10th
VBS

is June 12-15

Farewell Reception/Baby Shower

for Vicar Graham and Hannah Jenkins following the 10:30am church service on Sunday, June 25th in the Media Center.

July Outdoor Worship is July 8th
Student Serve Day is July 11th
Elder Grill Out

following the July 8th Outdoor Worship Service.

FREE Outdoor Summer Movie, "Wreck-It Ralph" is July 8th 7pm
Confirmation Registration is due August 1st here
Christian Scholarship Foundation Golf Outing on August 7th
August Outdoor Worship is August 12th
Voices of Truth concert

following the August Outdoor Worship Service

Confirmation Orientation August 27th at 10:30AM or August 30 6:30PM (both in the Media Center)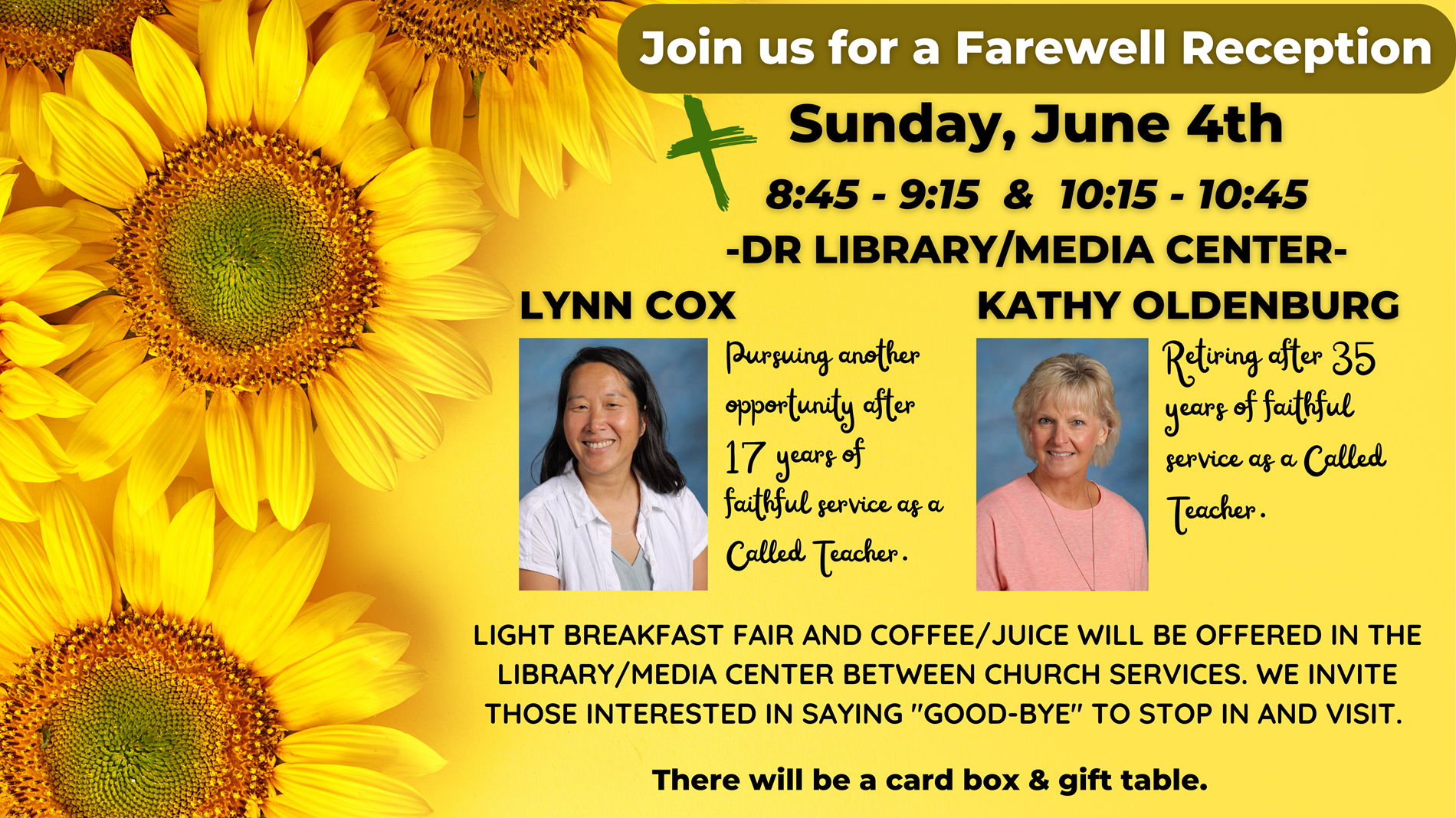 Don't forget that the following start in fall:
School starts on Wednesday, August 23rd
New Member Fall Class starts September 17th
Women's & Men's Ministry Joint Kickoff event is Wednesday, September 6th in the gymnasium
The Campus Expansion Campaign project kicks off
7th & 8th Grade Confirmation classes start in the fall (Register by August 1st here)
Confirmation Orientation

August 27th at 10:30AM or August 30 6:30PM (both in the Media Center)

Kids Connection runs September - April
Church Kick-Off Sunday will be Sunday, September 10th