"…to equip His people for works of service, so that the body of Christ may be built up until all reach unity in the faith and in the knowledge of the Son of God and become mature, attaining to the whole measure of the fullness of Christ…"
~ Ephesians 4:12-13
Welcome to Gir
lfriends for God!
Here at Divine Redeemer, our women's ministry (girlfriends 4 God) exists to enhance women's relationships with God and each other. With many opportunities and types of activities, our programming strives to include all women—single, married, working moms, stay-at-home moms, and seniors—to come and…
grow our relationship with Jesus,
gather to connect as girlfriends for God,
pray for the needs of our sisters,
serve others with our time and talents, and
share our stories, experiences, and faith
G4G Purpose Statement: We exist to connect women to God and each other.

Pictured Right: Most of the g4G team from 2022-2023 at the retreat.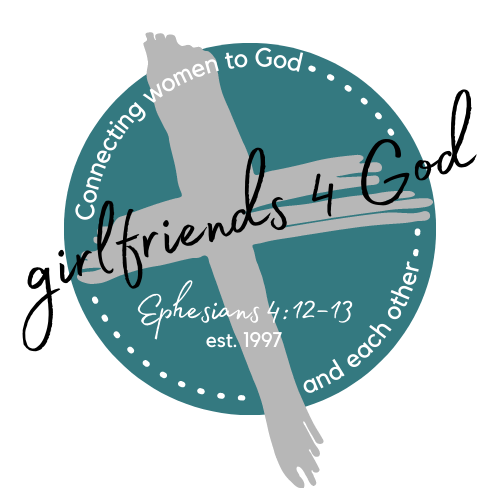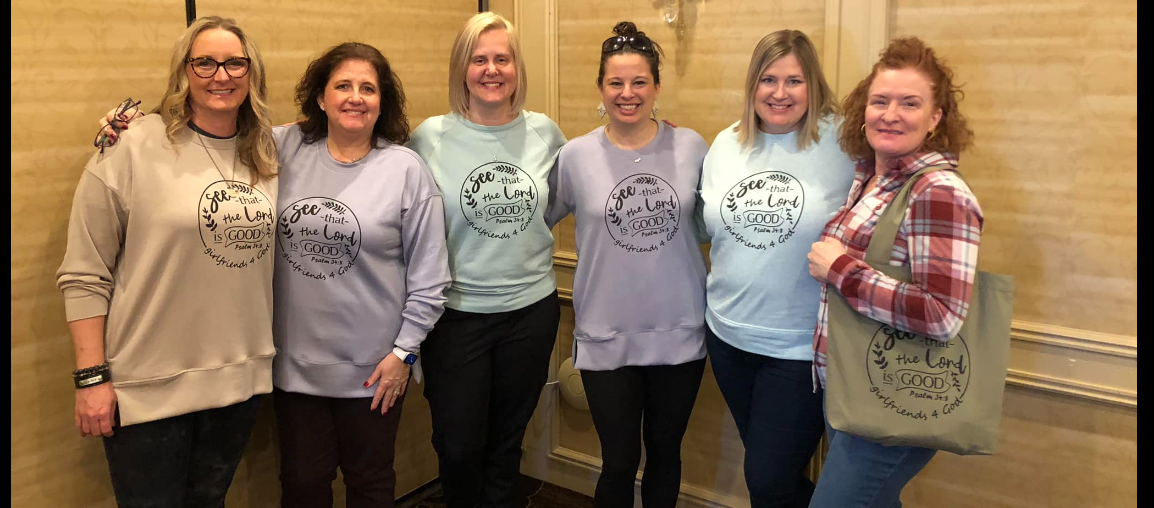 FALL 6-WEEK STUDY + EVENTS

6-WEEK BIBLE STUDY
This fall, the Men and Women Ministries at DR are doing the same Fall 6-week study, "Don't Give the Enemy a Seat at Your Table." Men and women will have separate times to attend although there is one coed option. See study time options below:
Women are in Purple and Men are in Orange below. There is 1 COED in Green.
MONDAYS
9AM in the Media Center with Karen Lippert (in person and ZOOM option)
3PM at Corinne Merten's home*
6:30PM in the Prayer Room with Sam Tietgen

TUESDAYS
6:30AM with Dave Lange in the Fellowship Hall
6:30AM with Jeff Lippert in the Media Center
6:30PM with Renee Bielawa in her home*
WEDNESDAYS
6:30AM in the Fellowship Hall with Karen Lippert
9AM in the Prayer Room with Lori Anacker
1PM in the Prayer Room with Karen Lippert
5:30PM in the Fellowship Hall with Scott Droegkamp
6:30PM with Jennifer Kleba in her home*
THURSDAYS
8AM in the Media Center with Stephanie Cutler during MOM Cafe
6PM Men's Home-Based Study

WEEKENDS
7AM with Bethany Irish at Birch & Banyan
9:15AM with Stephanie Cutler in the 4th Grade Classroom during Adult Bible Study Hour (COED)

*Email
Stephanie.cutler@drlc.org
for the zoom links, home addresses or group leader contact info.

WOMENS BIBLE STUDIES
Deeply rooted in Scripture, you can find women's Bible studies offered from September through April each year. In addition, we offer a summer book study. The Bible studies range with a variety of topics and times offered. Refer below for the current Bible study schedule or click on the g4G annual brochure below. If none of the in-person times work, we offer various online/pre-recorded sessions you can watch. Find those on the g4G facebook group.
EVENTS
The g4G ministry year runs September – April. In September, our first event is a "kick-off" event. In the past we've had a Christian comedian, a food truck night, inspirational speakers and more. The theme for the year is introduced and there is always time for connection, worship and prayer. Throughout the year we host several g4G events and close the year with an Oasis (inspirational speaker) event in April. Past events throughout the year have included a Soup-Off, Mother-Daughter Tea, Faith & Fitness, Yoga & Scripture Meditation, Contemplative Prayer, and more!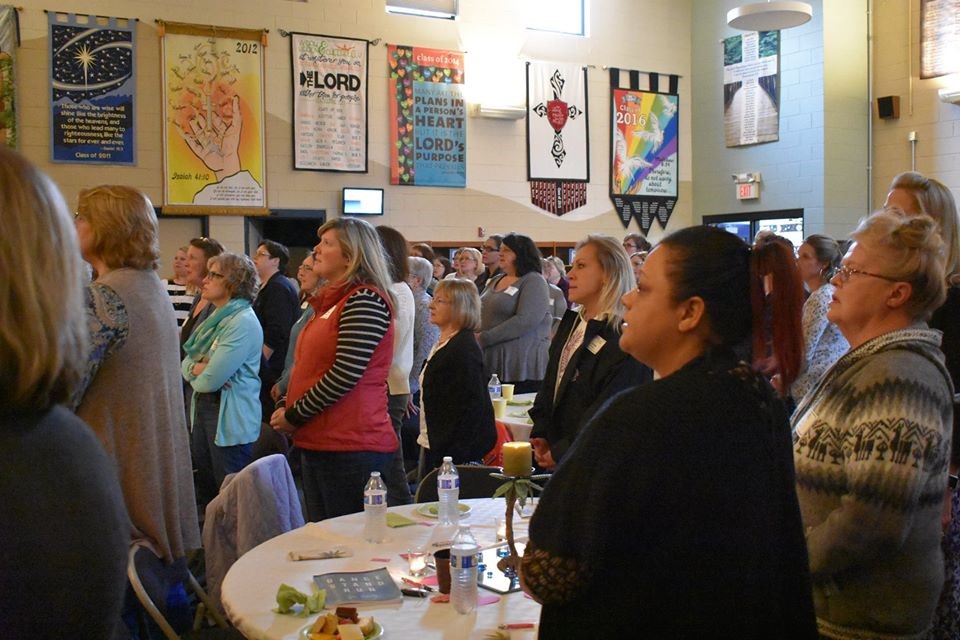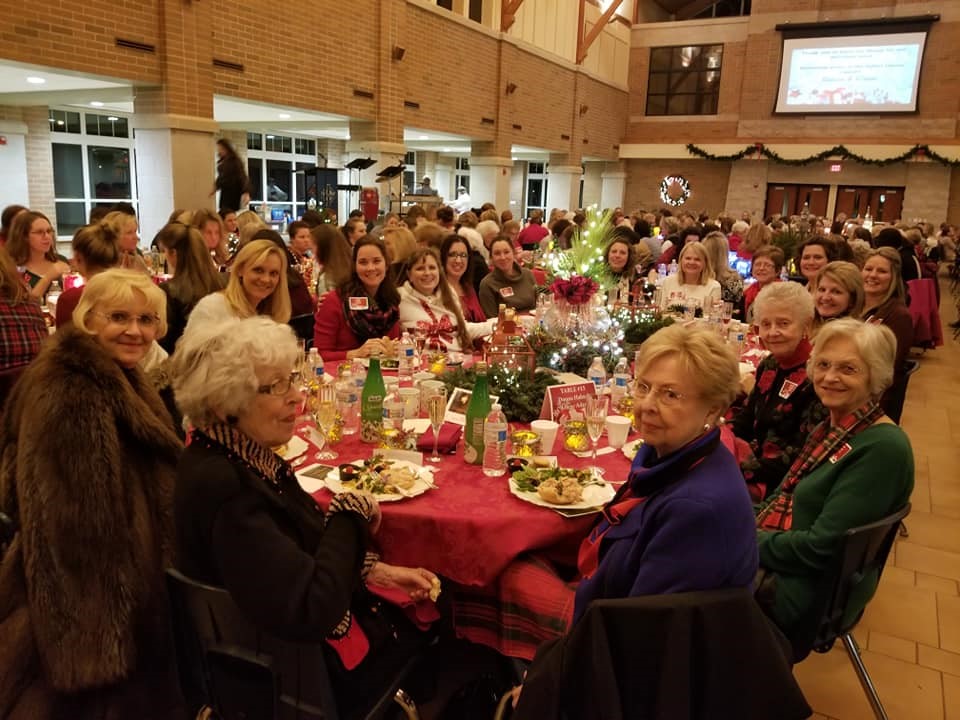 CHRISTMAS BY CANDLELIGHT
15th annual will be 12/7/23
Our Christmas by Candlelight event has been in existence since 2009. It is a beautiful evening held in the Great Hall at Lake Country Lutheran High School. Our hostesses decorate their tables with Christmas décor and warm lights and invite women to start off the season of Christmas with the right perspective. This event is held the first Thursday in December and it includes a complimentary meal with 100% of the donations going directly to the ministry we are supporting for the year.
For a recap of last year's event click here.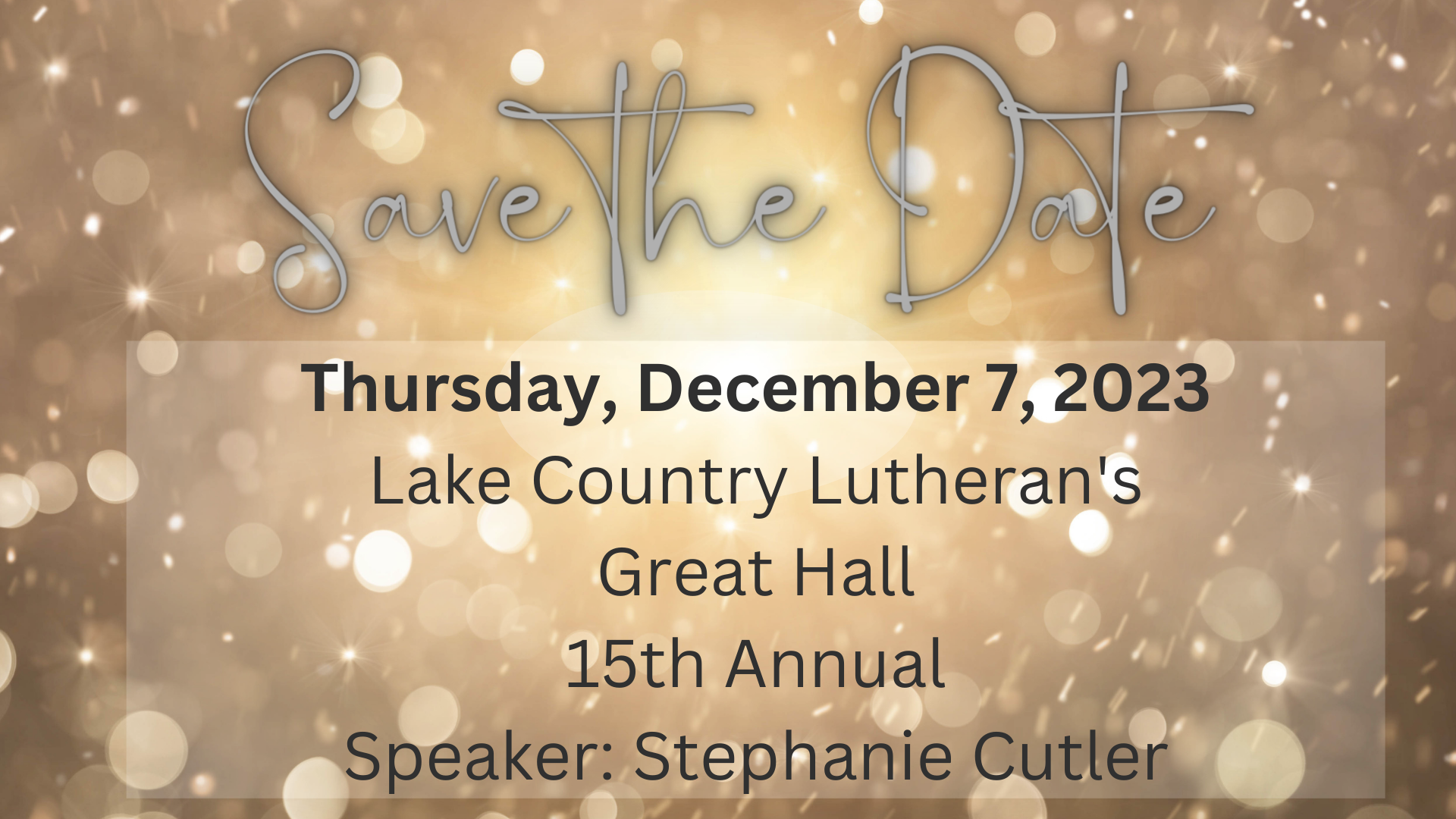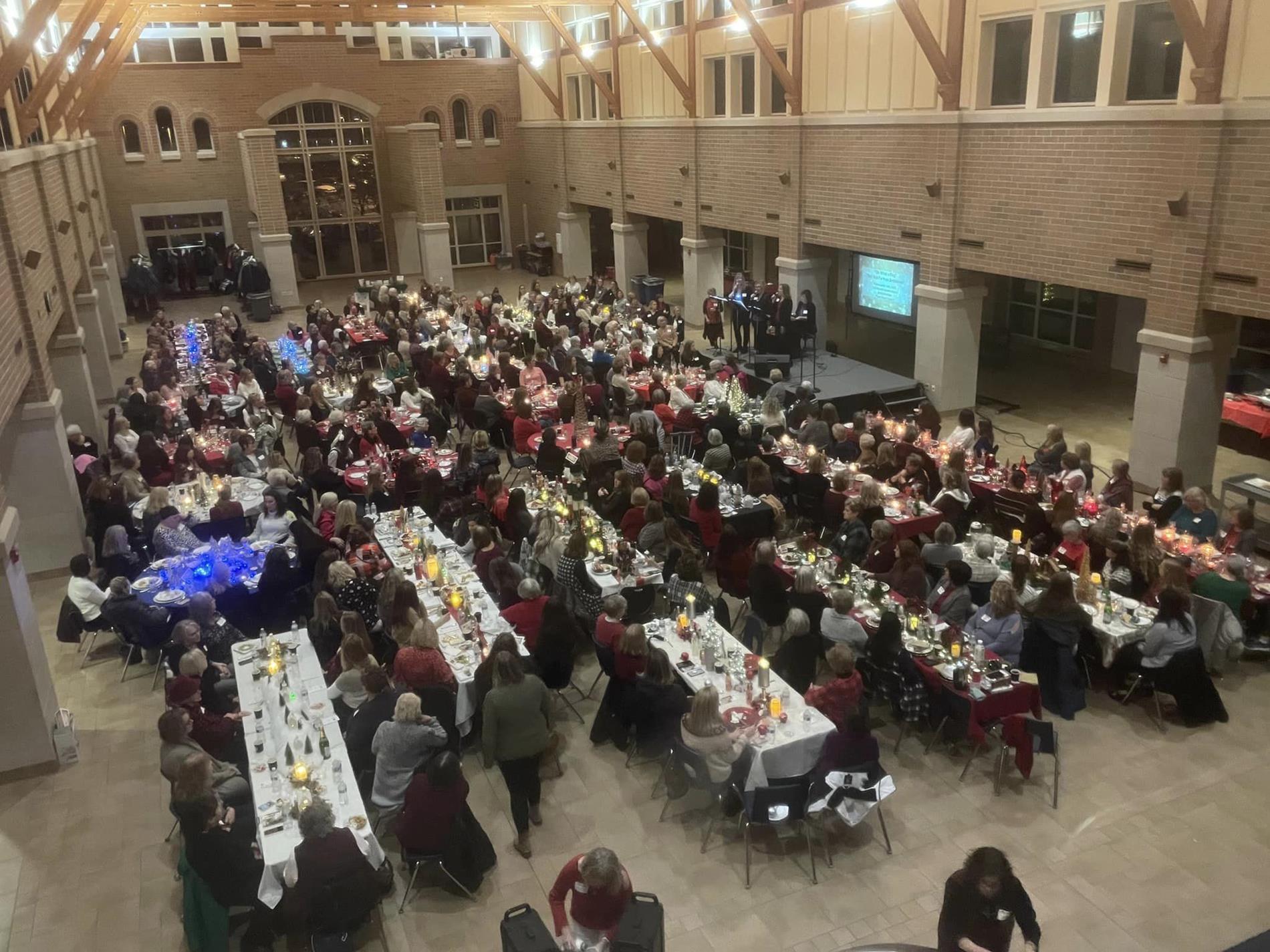 BIBLE STUDY SCHEDULE NOVEMBER 2023 - APRIL 2024


ROTATING ANNUAL CONFERENCE (ONSITE) OR RETREAT (OFF-SITE)

RETREAT OR ON-SITE CONFERENCE
This ministry year we will host a DR onsite conference on Leap Day 2024!
The women's ministry "retreats" every other year to an offsite location in Wisconsin for a weekend of fellowship and faith. In the off-years, we host an on-site mini-conference at Divine Redeemer. Past retreats have occurred in Lake Geneva and Green Lake themes like "Living the Chocolate Life". Onsite retreats have brought in amazing speakers like Tammy Trent and Summer Shepherd.

2025 - Retreat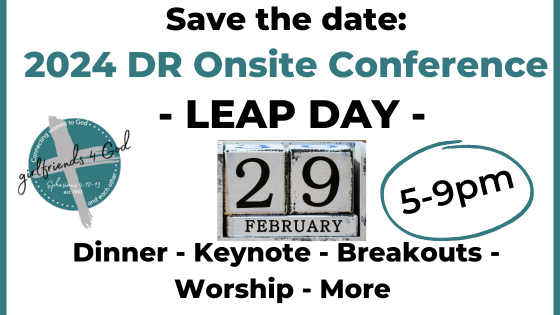 MOMMY AND ME - WEDNESDAYS
Mommy and Me is a playgroup for caregivers and their infant–preschooler. It runs on the same schedule as M.O.M. Cafe, but it is on Wednesdays and led by Certified Teacher, Mrs. Karen Roedel. It includes snack, Jesus time, playtime, and more. Sign up here.
MOM CAFE BIBLE STUDY- THURSDAYS
MOM Cafe is a Bible Study for moms with kids of ALL ages where you learn, share, laugh, pray and grow together with other moms. After coffee & breakfast a speaker or video series presents our topic. You will then be led through discussion questions with moms of similar-aged kids.
We look forward to you joining us!

Monthly Study for Grandmas with grandkids of all ages!
6:30 - 8:00PM ~ Sept- May
2nd Wednesday of every month
Led by Renee Bielawa
DR Media Center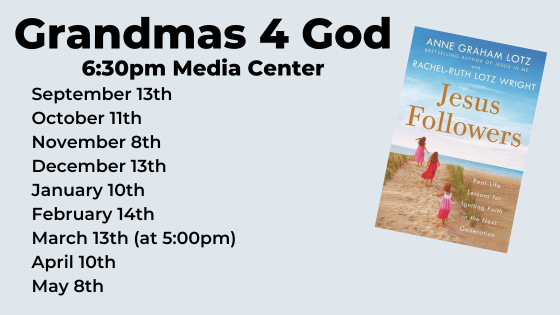 MORE INFORMATION and BROCHURES
Previous Fall Studies
2023 - Don't Give the Enemy a Seat at Your Table
2022 - Encountering God
2021 - Meant for Good
2020 - Fight to Flourish
2019 - You are Free
2018 - Red Letter Challenge
2017 - Joining Jesus in His Mission
2016 - Fight Back with Joy
2015 - The Best Yes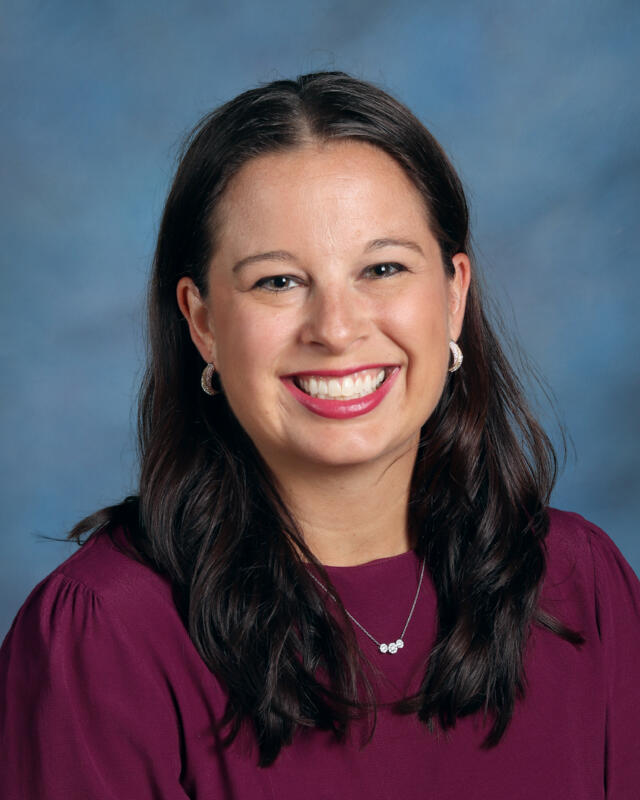 CONTACT
Women thrive with connection and the purpose of g4G is to connect women to God and each other. There is a weekly e-newsletter (for g4G group members) that includes a devotion and updates with events and activities. Email Stephanie to get added to our e-Newsletter. Follow 'girlfriends for God' on Facebook to keep up-to-date on what is happening.

2023/2024 WOMENS MINISTRY YEAR THEME