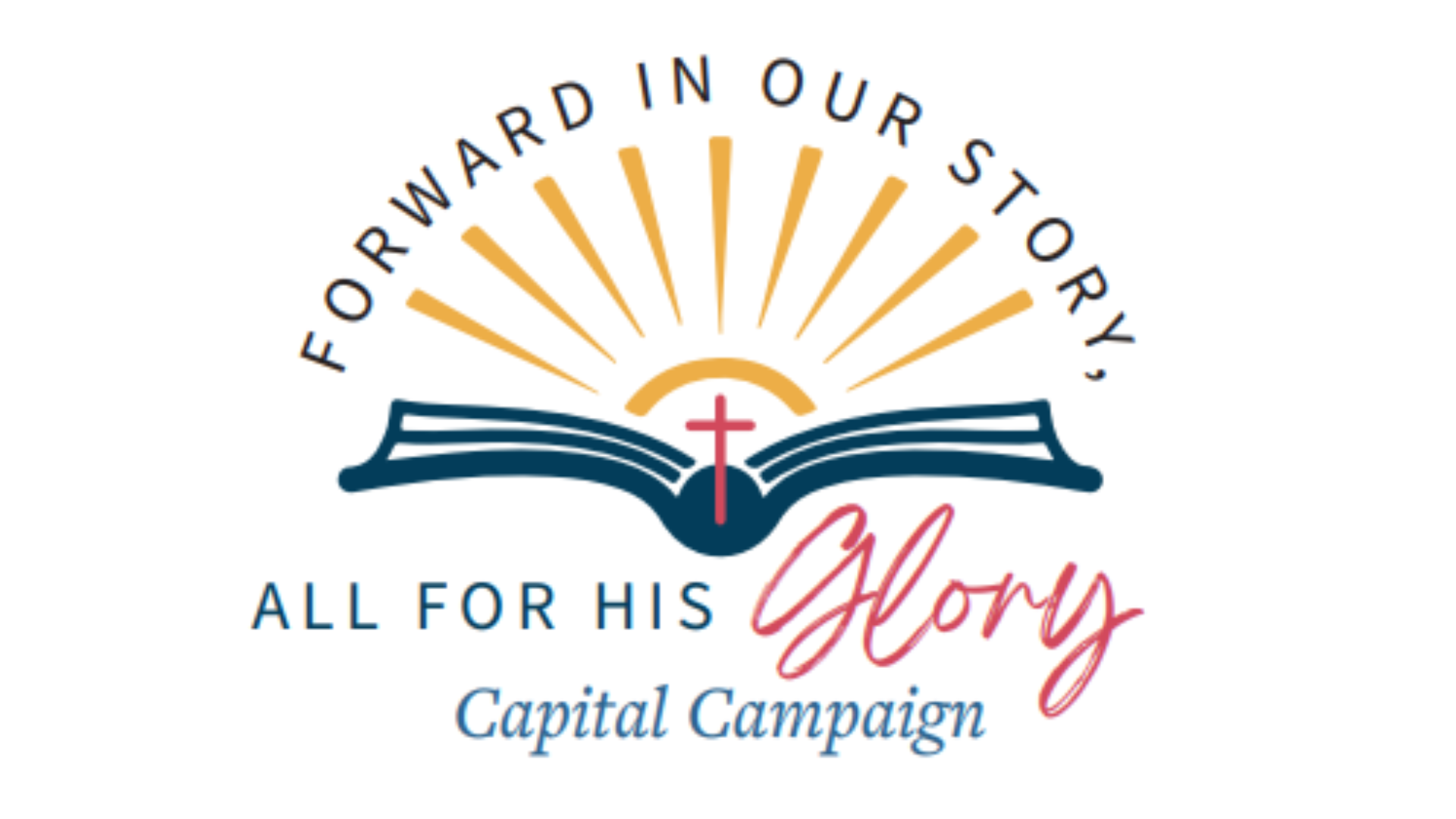 Theme :
For something to move Forward it assumes there was a past. Our capital campaign theme, "Forward in our Story" gives a nod to our 50+ years of history at Divine Redeemer and God's faithfulness and faithful servants. Forward also assumes there is a future. Moving along following God's lead, we invest in our future and the future of those who will come to Divine Redeemer Church & School. The most important part of the theme name is "All for His Glory". Our focus and priority are on giving God glory and following His will. We would be amiss to have a different focus. Our theme verse is 1 Corinthians 10:31b, "Whatever you do, do it all for the glory of God."

Theme Announcement from our Capital Campaign team on June 1st, 2023:
As announced last week, Divine Redeemer is in the silent buildup phase for a capital campaign for a new Early Childhood Development Center (ECDC). The theme of our campaign is "Forward in our Story, All for His Glory". This theme is fitting for the Divine Redeemer Lutheran Church and School community for two reasons.
First, it allows us to honor our more-than-50-year history of building His Kingdom in Lake Country, while also calling to mind that our mission continues to propel us into the future. In conducting this campaign, we have the life-giving opportunity to write a new chapter in the story of Divine Redeemer.
Second, the theme keeps the scriptural basis of all that we do in our minds. We deliberately chose this theme because it calls to mind 1 Corinthians 10:31b: "Whatever you do, do everything for the glory of God." Paul exhorts Christians to seek the good of others, and thereby bring glory to God. While it is exciting to write a new chapter in Divine Redeemer's story, that cannot be our only purpose. We cannot build a building just for the sake of a new building and a greater capacity for our ECDC, though these are good things. We must instead remember that we are doing these things to give God glory! A successful campaign will let us bring even more children and families into a relationship with Jesus, to remind even more of the people of Lake Country of God's love for them.
Please continue to pray for the campaign and take time to reflect with God on how He might be calling you to contribute. Please also pray for all the church leaders and volunteers working to bring the campaign to a successful outcome. 
DR Vision Page - All information related to the campus expansion
STAY TUNED - THIS WEBSITE WILL BE UNDERGOING A TRANSFORMATION FOR THE CAPITAL CAMPAIGN SOON!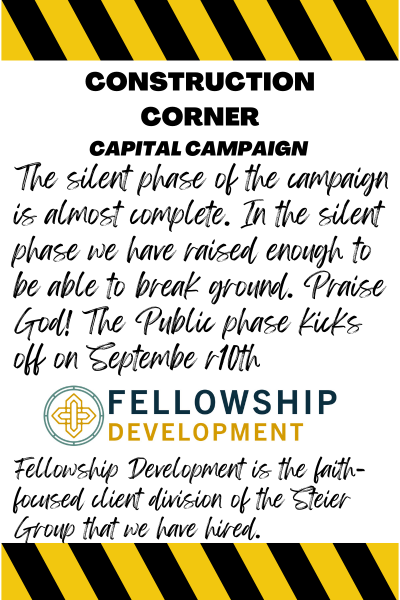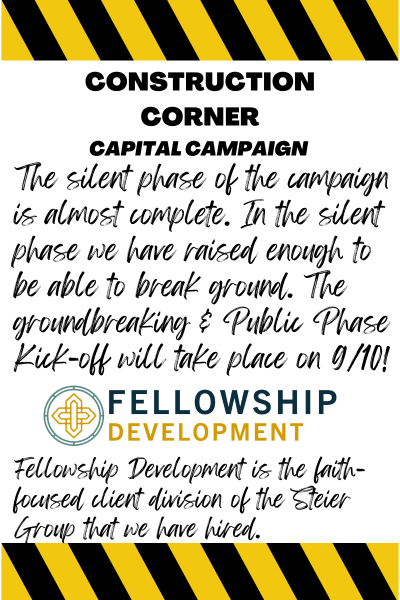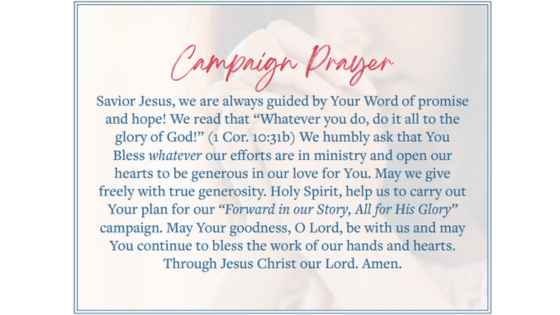 4/16 Voters Meeting Results: The motion passed 181 - 5.
Next Steps:
Please continue to pray for DR's expansion process.
The Board of Directors will select a company to hire for the Capital Campaign and a campaign team will be formed this spring.
We will officially kick off the capital campaign this fall, but it is likely we will do a "soft launch" this spring/summer.
The capital campaign fund is live on our giving website.
We are going to create a "Construction Corner" on this Vision page which will house our most up-to-date construction updates from planning all the way to opening!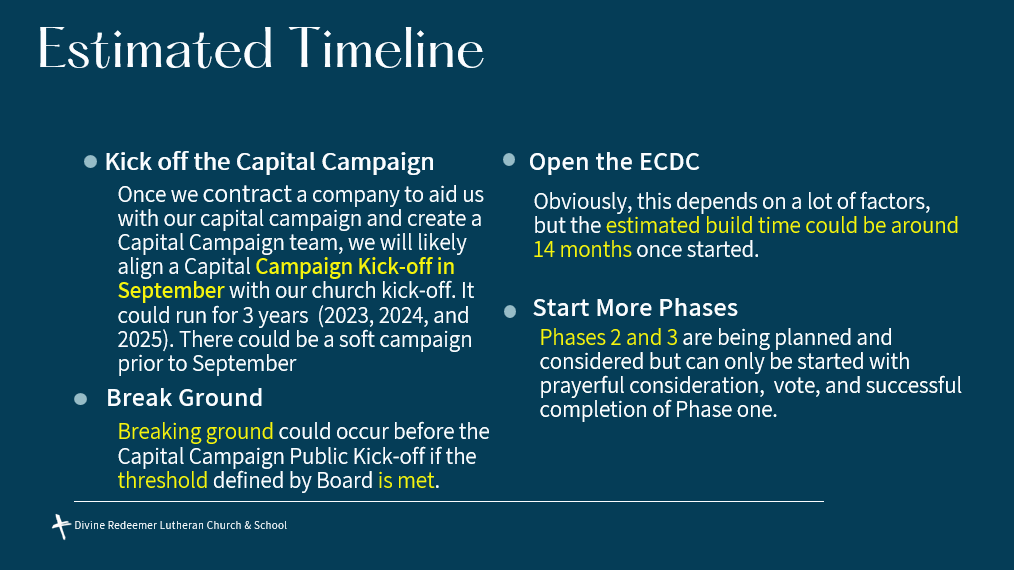 Information about Divine Redeemer's Readiness Assessment:
THE READINESS ASSESSMENT RESULTS ARE IN!
Currently, we have received the results of the January Readiness Assessment from the company that compiled them, LCEF. We received those results on March 27th and turned around and offered a town hall to our congregation to share the results on the evening of March 29th. The results are also available on the top of this website page and include 1) The PowerPoint Presentation that was used at the DR town hall on 3/29 and 2) The LCEF Summary Presentation deck from 3/27. We encourage everyone to look through those two documents in depth.
WHAT'S NEXT
As you read through the two presentations regarding the summary of the Readiness Assessment results and next steps, we encourage you to submit any questions you may have by clicking on the "Submit a Question" icon above on this webpage or by reaching out to Pastor Seth. We will host another corporate prayer meeting on Sunday, April 2nd in the Media Center following the 9:15am service. Please join us for continued corporate prayer for God's will to be done at our congregation and school.
SAMPLE RENDERINGS - PHASE 1
There are sample renderings below of possible ECDC and campus expansion plans. Additionally, renderings will be coming soon for the rehab that could take place under the church (current ECDC location)! Here are some of our favorite things about the current ECDC sample renderings:
This potential expansion gives DR an opportunity to respond to the local families' requests for access to Christian Early Childhood Development ministry.
The large multi-purpose room will be able to service many regular Bible studies and meetings on campus.
This plan has a strategy to bring water and sewer on campus to complement potential, future growth phases.
Bringing in water for the first time in 50 years means that we can begin to expand our restroom capacity for any phase of potential growth.
The focal point for all entrants to the new building upon entering will be a large cross within the multi-purpose room! No one will be able to miss why we're here: Jesus, THE Divine Redeemer!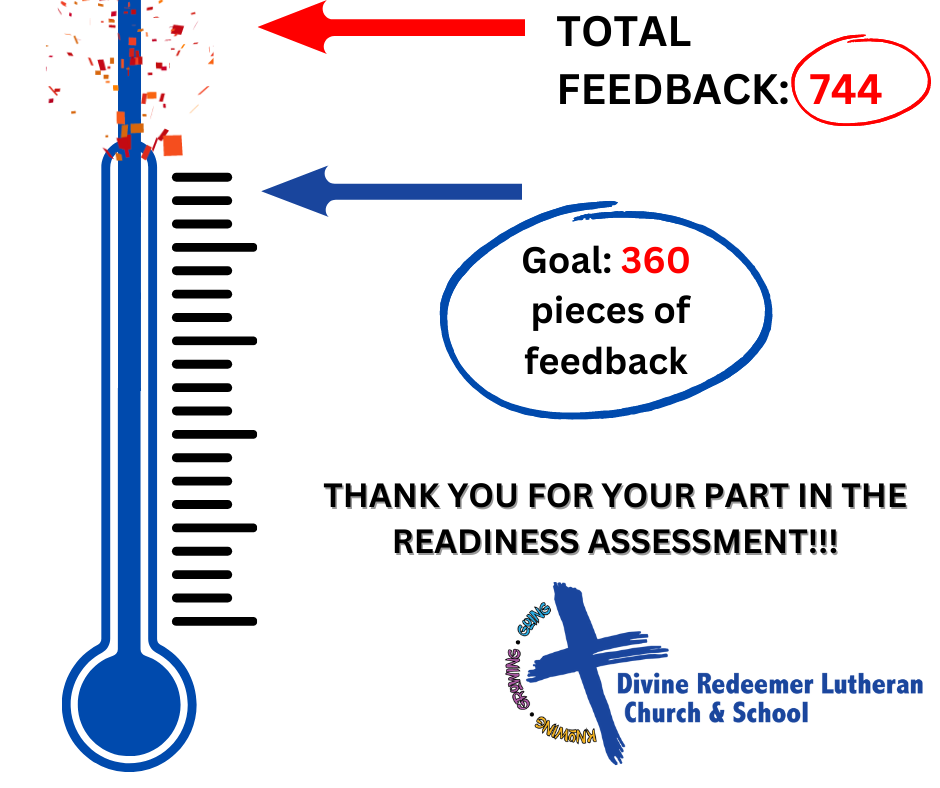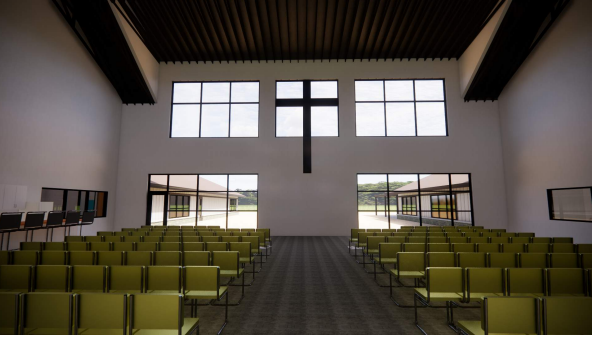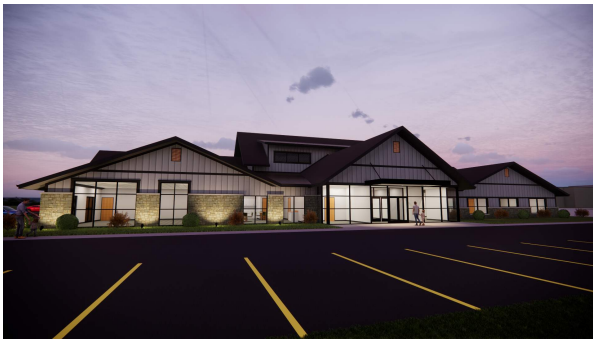 Readiness Assessment: Completed
YOUR part in the Readiness Assessment is completed. The results have been compiled by LCEF. Thanks to you, we received a combined total of over 744 pieces of feedback. That feedback (survey data, interview notes, forum feedback) have been compiled by LCEF who has provided Divine Redeemer their summary report of findings on March 27, 2023! The results are overwhelmingly positive! They have officially made the recommendation for Divine Redeemer to move forward.
We hosted a town hall on March 29th during the Soup Supper. We wanted to quickly turn around the results we received to our congregation. If you were unable to attend the presentation from that town hall as well as LCEF's presentation are located at the top of this webpage for your viewing.
VOTERS MEETING - April 16
We encourage everyone to read the two presentations at the top of this web page before the Voters Meeting. The VOTERS meeting will be on April 16th at 11:45am in the Church. All are welcome. Members only can vote who are over 18. First-time member voters must register at the very start of the meeting (come early). The exact motion that will be voted upon is as follows:
"Based on the results of the Readiness Assessment, the Board of Directors recommends to the voter's assembly of Divine Redeemer Lutheran Church, that they approve the development and construction of an Early Childhood Development Center and the immediate initiation of a capital campaign."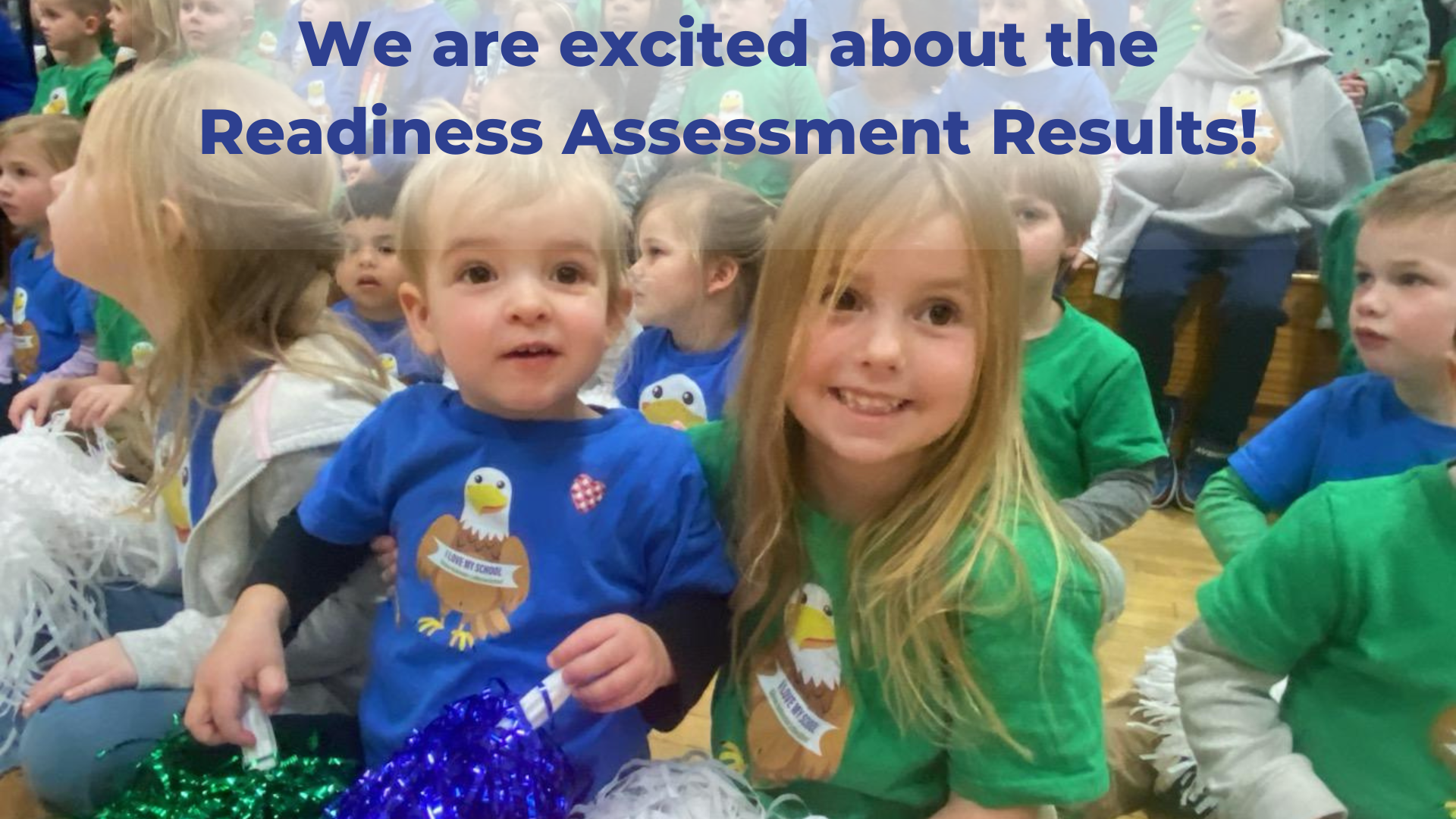 PRAYER MEETINGS
Prayer Meeting March 15th following the 6:30 service
Prayer Meeting April 2nd in the Media Center following the 9:15 service
INFORMATIONAL MEETING
5-6pm at the March 29th Soup Supper (same presentation will be available on this web page if you cannot attend)
Please review the presentation documents on this web page for more information prior to the Voters Meeting.
VOTERS MEETING
April 16th, 2023 at 11:45AM in the Sanctuary
All welcome
Voting members must be church members that are 18 and older
First-time voters must register at the start of the meeting.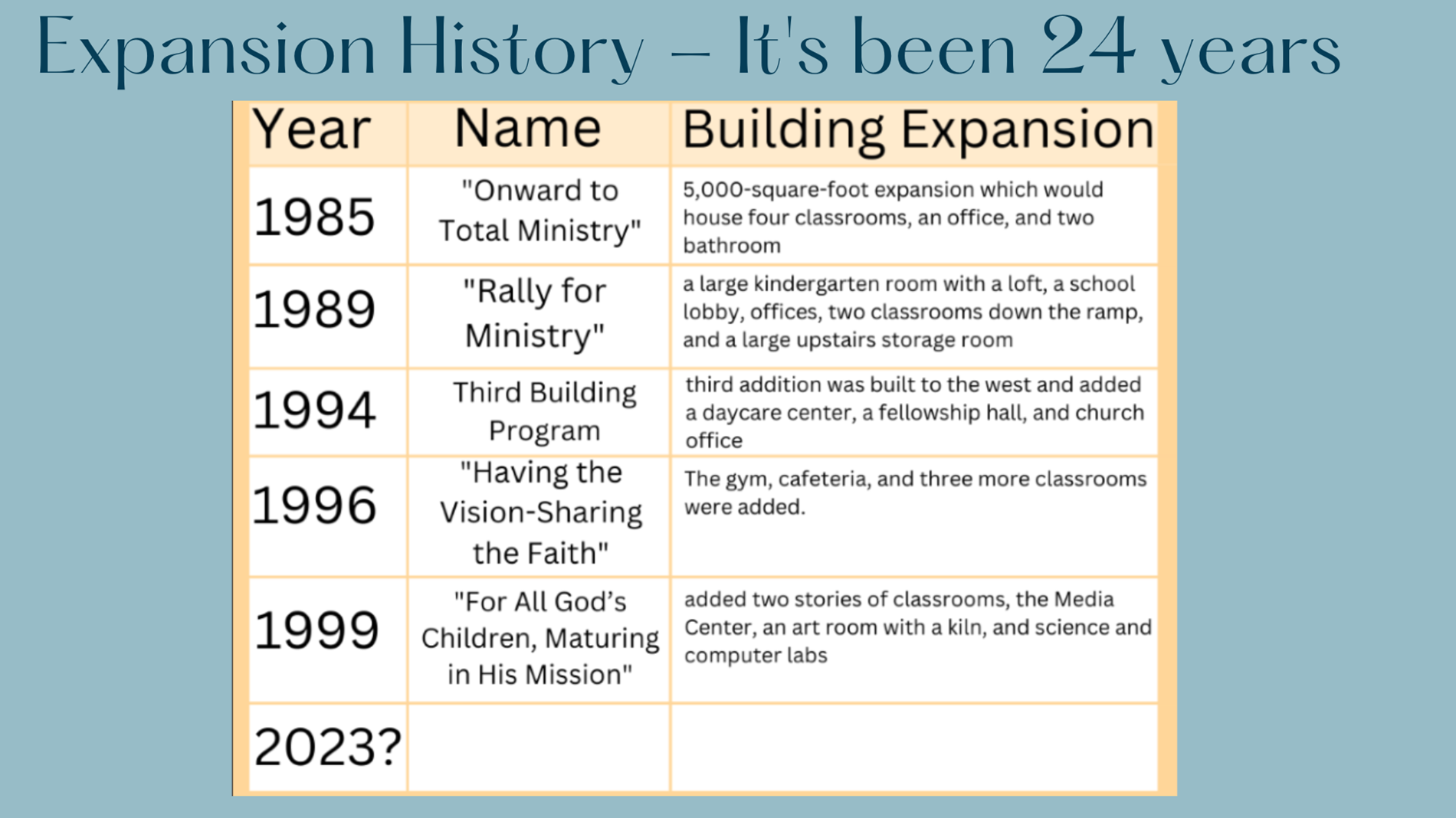 Pre-Readiness Assessment Video
Divine Redeemer will be undergoing a Readiness Assessment over the next few months. Starting in December, we will have prayer meetings to pray over God's direction for our church and school. In January, our church and school families are invited to attend one of FIVE different Forums to learn more about the potential expansion and have their feedback recorded. After attending a Forum, we would ask that everyone fill out the Ministry Readiness SURVEY link (online survey) that will help us gather the necessary information for making future decisions. This link will be available from January 11th - January 31, 2023.
Our Ministry Readiness Partner, LCEF, will then use the data from interviews, surveys and forums to provide Divine Redeemer with a final report around mid-March. If it is deemed we are, in fact, ready to move forward with ministry and the support is clear both in prayer from our people, we would then consider moving into a capital campaign. (Moving into a capital campaign would require a church voters meeting vote.)
Note: It is important to note that as you enter forum conversations and fill out surveys over the next few months, you understand that this is a Ministry Readiness assessment only. You are not committing to anything financially during this phase. Additionally, any plans or renderings are subject to modification based on feedback and prayer.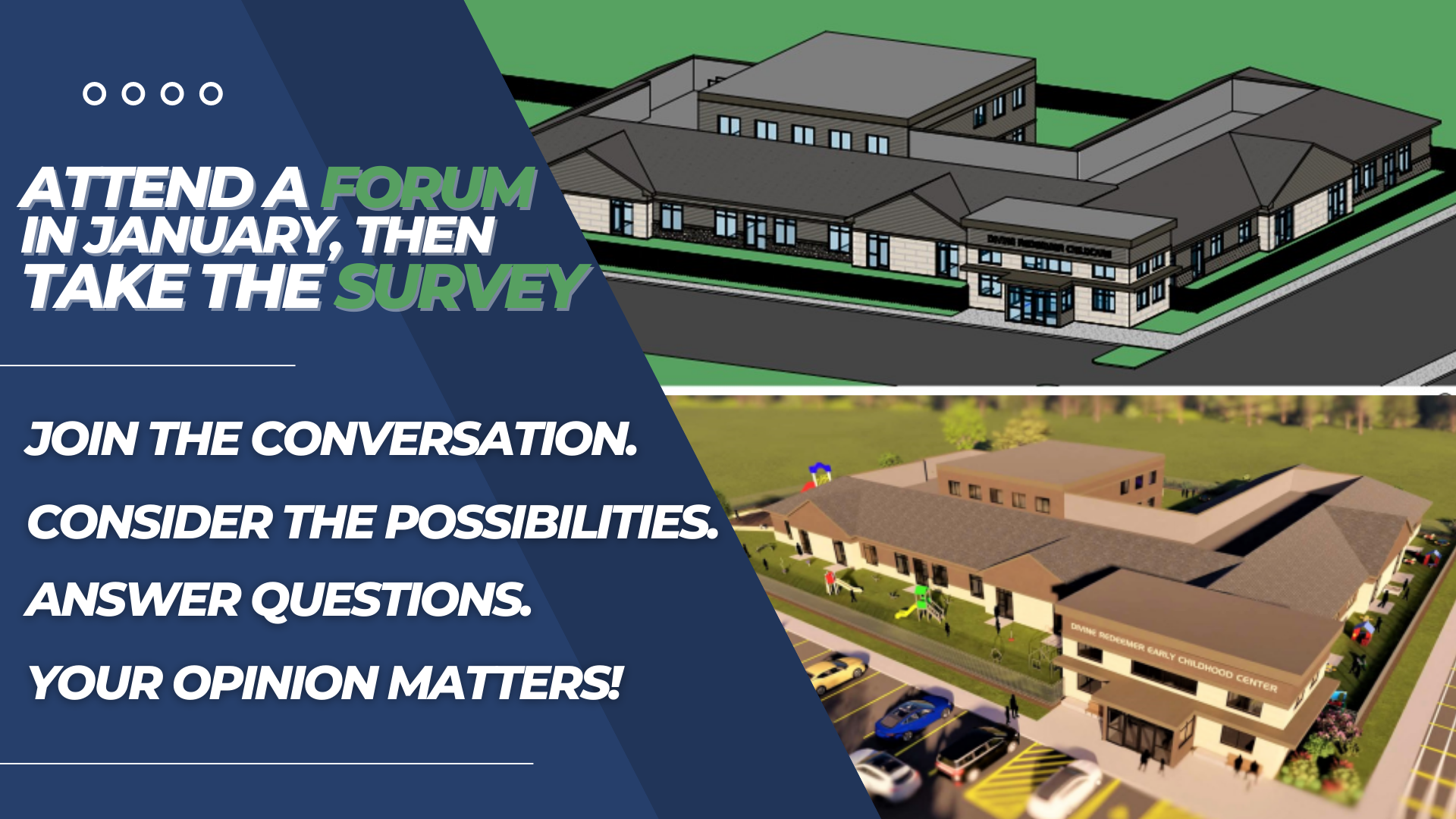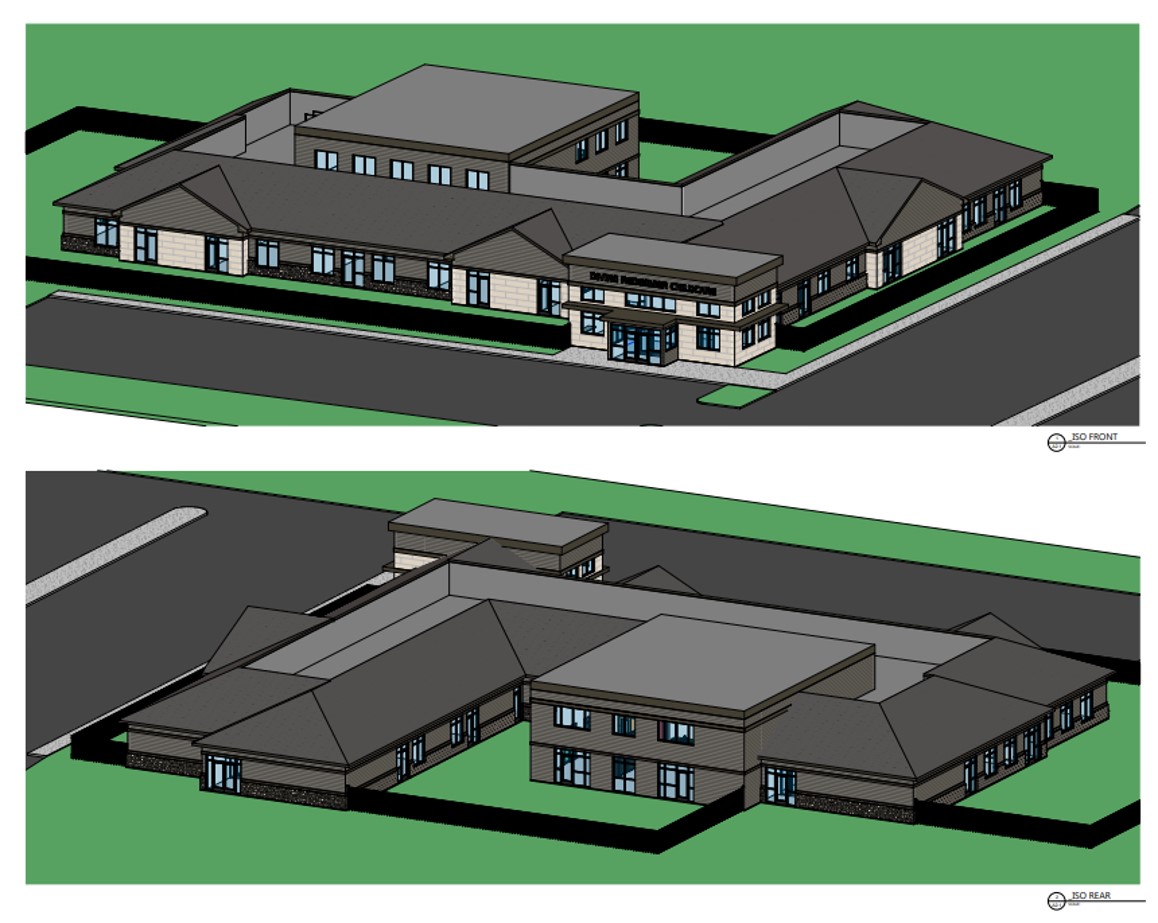 FREQUENTLY ASKED QUESTIONS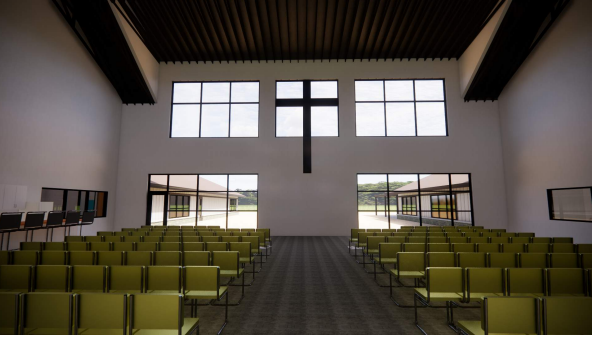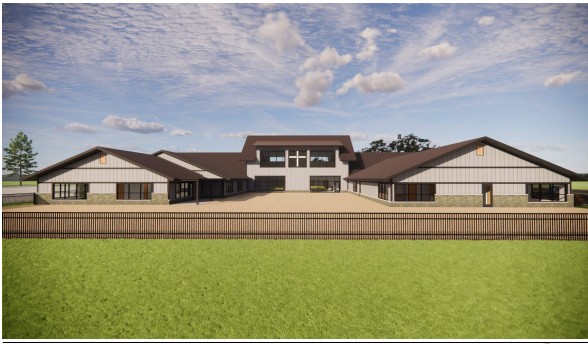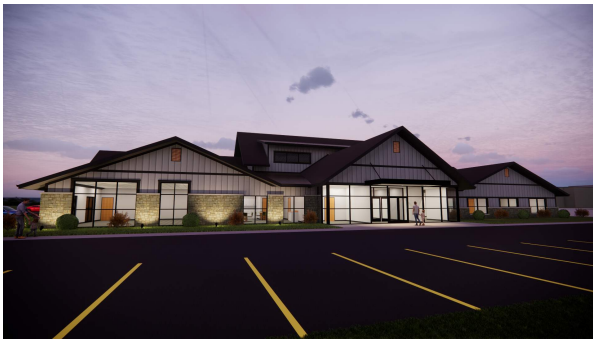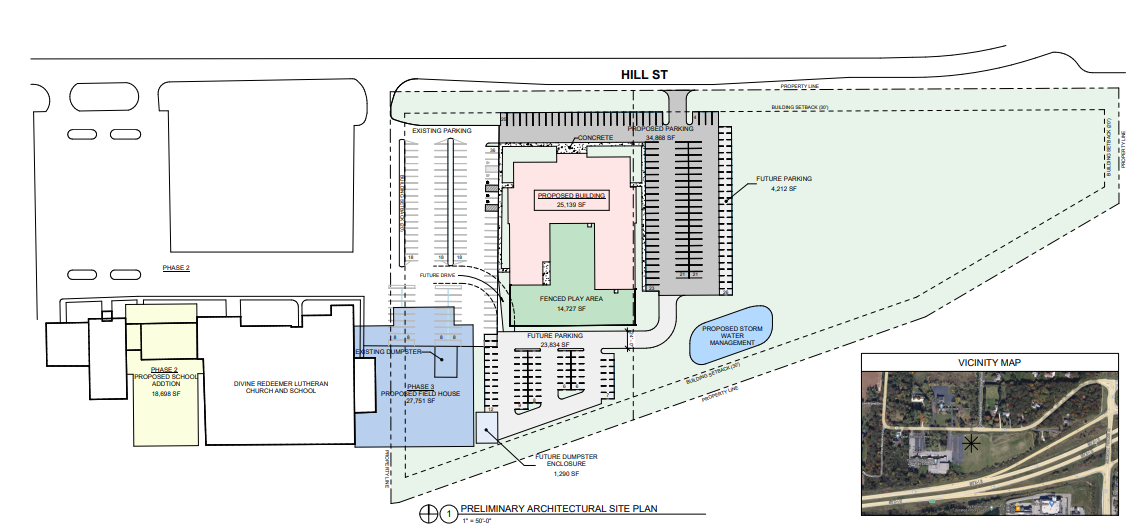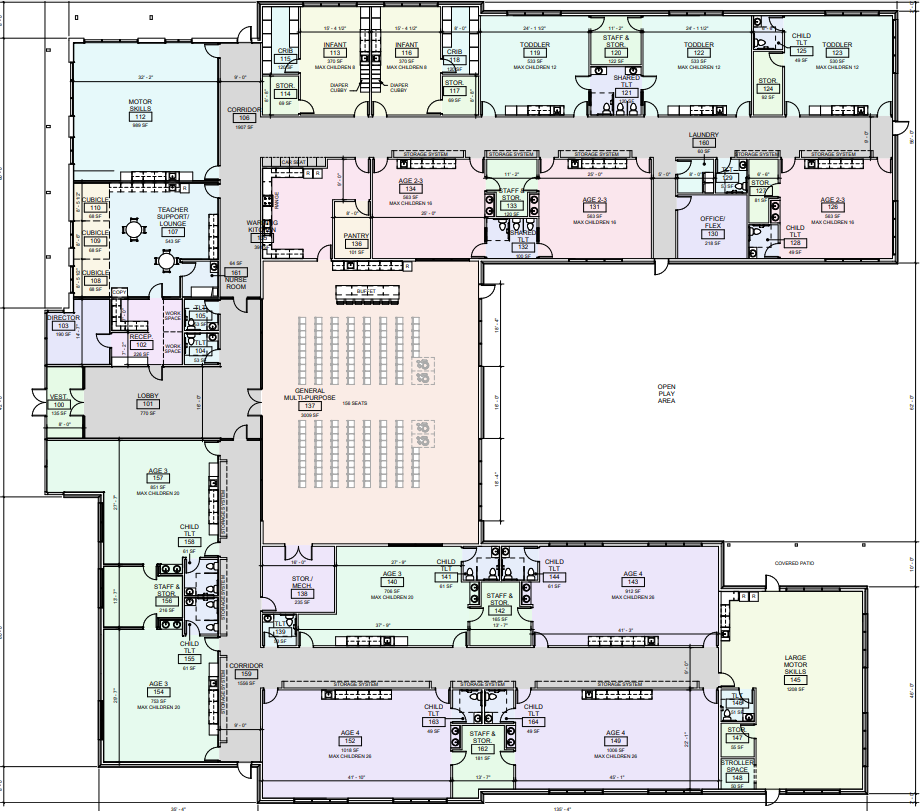 SAMPLE RENDERINGS OF THE REHAB TO THE CHURCH BASEMENT (CURRENT ECDC) COMING SOON!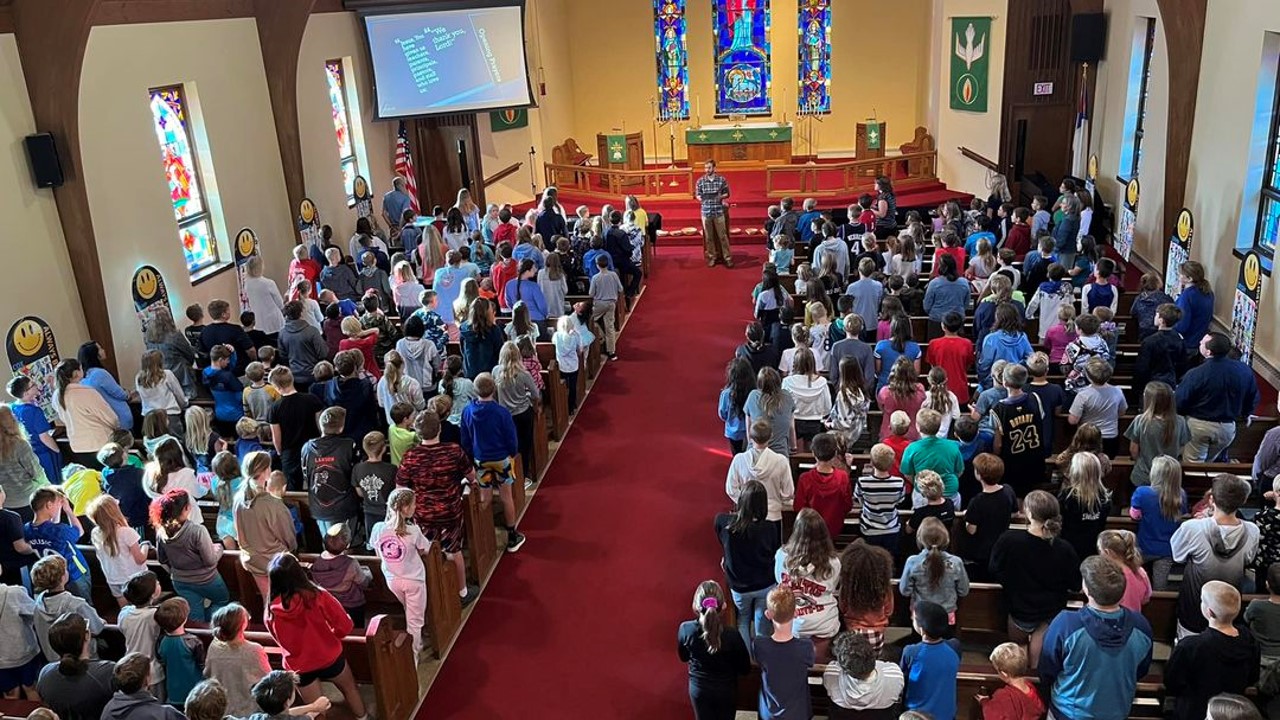 Above: Our very full chapel on Wednesdays.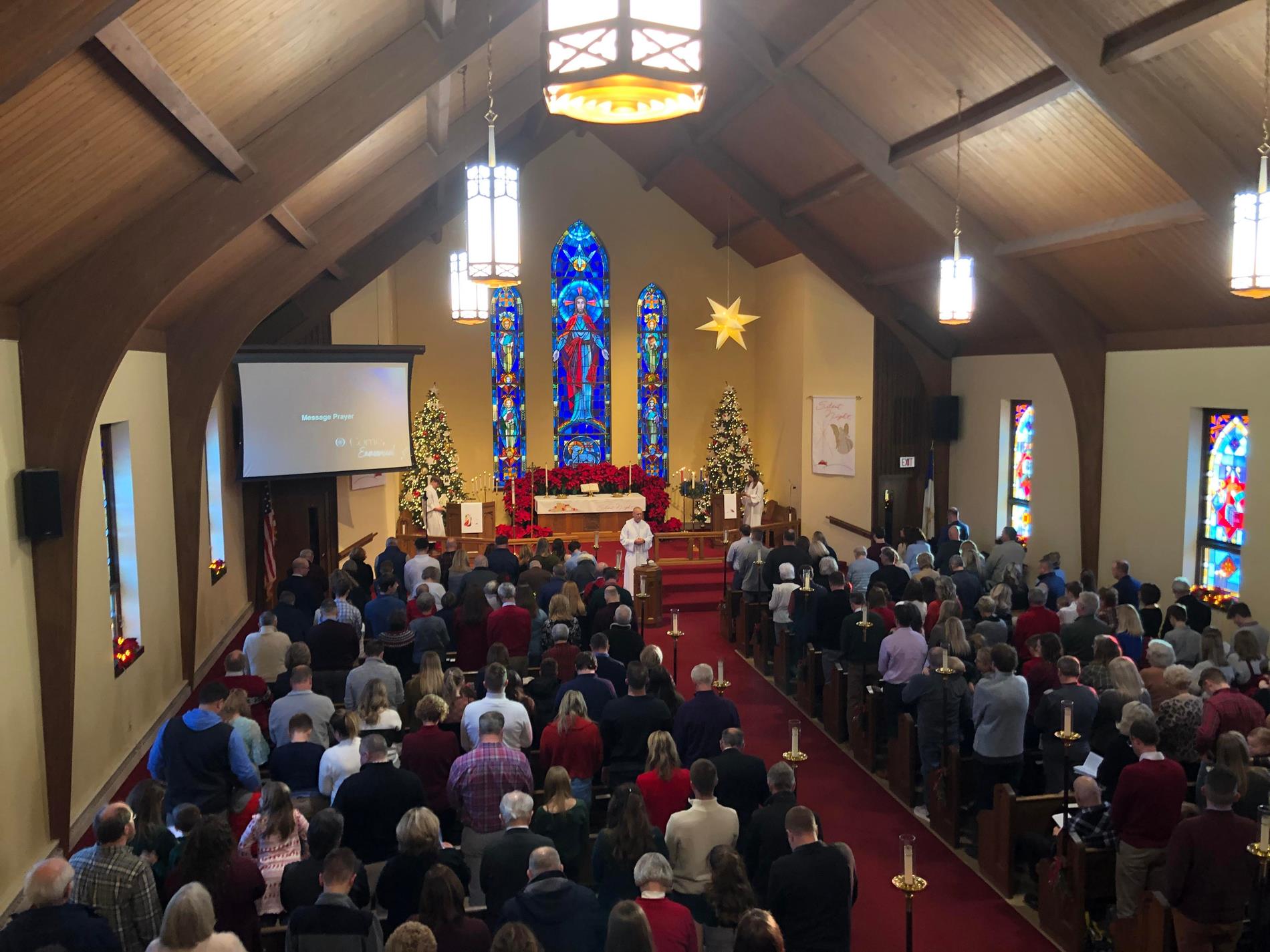 Above: One of our very full Christmas Eve services that helped more than 1600 people worship Jesus this past Christmas!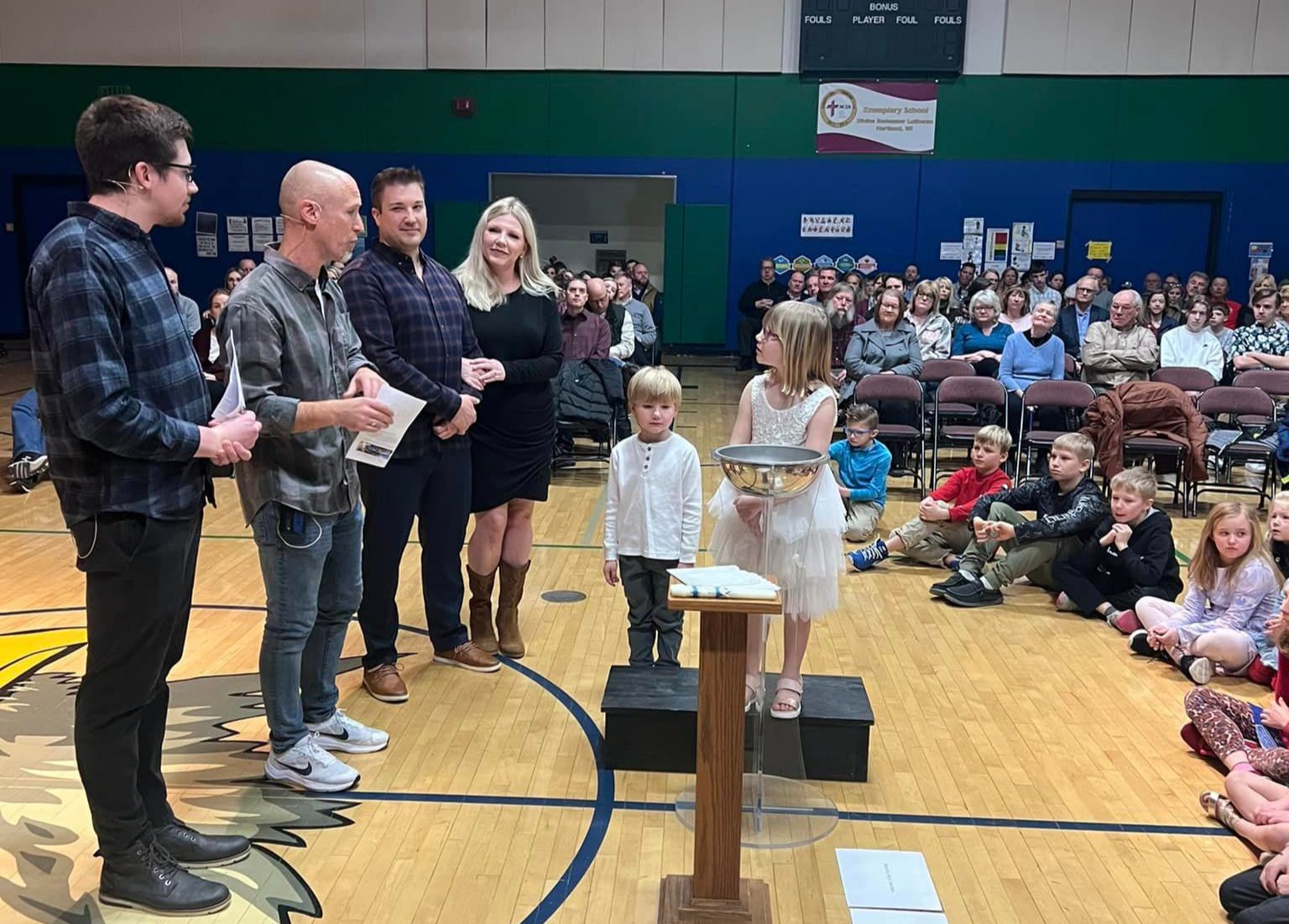 Above: Baptism of Marley & Billy Nerbun in front of the congregation and their peers during the children's message. There were over 35 baptisms at DR in 2022!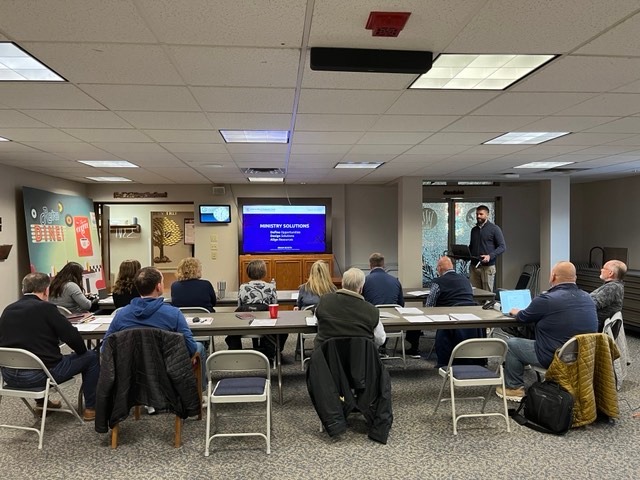 Above: LCEF providing results at the March 27th, 2023 specially called Board Meeting.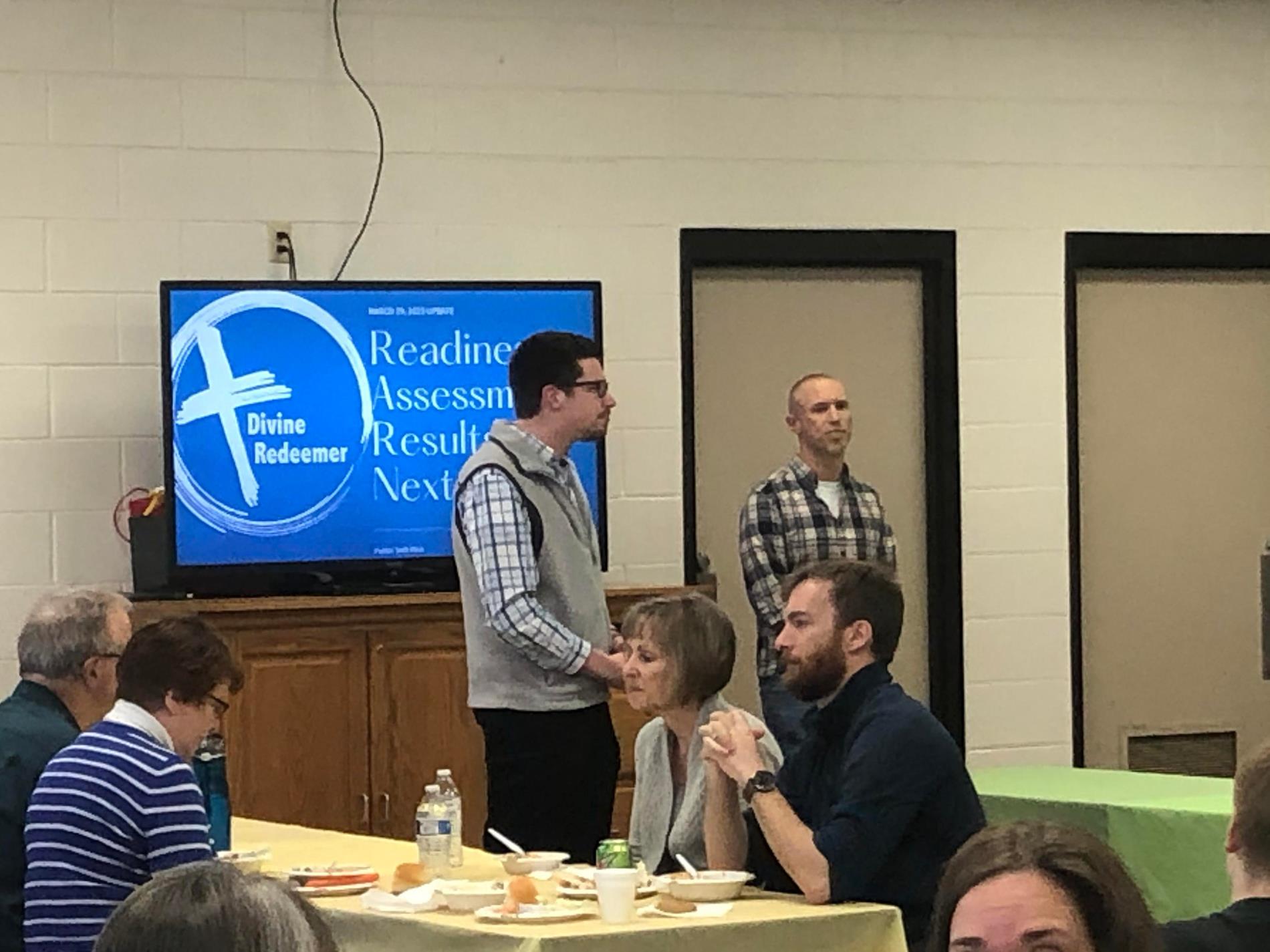 Above: Town hall on 3/29 during the Soup Supper with over 100 attendees who listened as Pastor Adam prayed and Pastor Seth provided the results of the Readiness Assessment and next steps.